Webster students were forced to wait a little longer than expected for the off-campus portion of the Gorlok Bucks program to begin, but the delay didn't dampen the excitement of local business owners. 14 businesses in total will be participating in the new program, giving students a bevy of dining options to choose from. Those restaurants include but are not limited to: Weber's Front Row, Highway 61 Roadhouse & Kitchen, C.J. Muggs, and Planet Sub. There is also the possibility that more establishments could be added later this year.
The Gorlok Bucks program was the result of three years of work by the Dining Advisory Board, who wanted to provide students with more options for dining late at night and on weekends. Bill Kunz, owner of Highway 61 Roadhouse and Kitchen says that it's a win-win situation.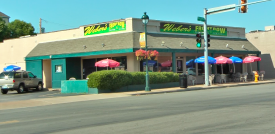 "There is some cost on my end for accepting the processing fees, but it gives me exposure to a new market that might not have been coming here. So it's a great opportunity to expand our cliental and also gives students another diverse option for dining.
Businesses who chose to participate in the program will be required to pay a processing fee, which was one reason Merille MacLellan almost didn't bring her business on board.
"There is a fee every time we swipe the card, plus an additional discount for students, there is also another small fee for processing as well," MacLellan said.
Other businesses, like C.J. Muggs didn't think twice about getting involved. Vice President Sam Crall is confident that this will increase their business, virtually offsetting those processing fees.
"The marketers for the Off Campus Solution program from other schools has given some numbers and we'd be happy to meet some of those goals," Crall Said. "That would translate into about 10 to 12 students every day."
Many of the participating businesses are within walking distance, giving the owners another reason to believe it will succeed.
"We're less than a mile from campus," Crall said. "So it's maybe a ten minute walk on a nice day or at the most a five minute car ride.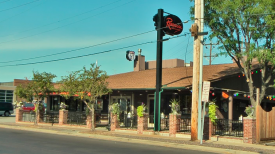 Highway 61 Roadhouse and Kitchen is even closer to campus and Kunz thinks that will be a big factor for weekend dining.
"Students might be able to get by with one big meal, like a Sunday brunch," Kunz said. "Our portions would be perfect for that and so getting involved made sense for us in that regard as well."
The start of the new dining program was delayed last week after a computer company ran into a scheduling conflict, but that issue has been resolved for many of the restaurants. As of Tuesday, ten of the businesses were actively participating in the program, the other four are expected to be ready to join in later this week.
To sign up for the Gorlok Bucks program, students must sign an additional agreement with the University and then deposit money into their accounts. That money can also be used on-campus, and any on-campus purchase would be tax free. Click here to view, download, or print the contract.
Share this post