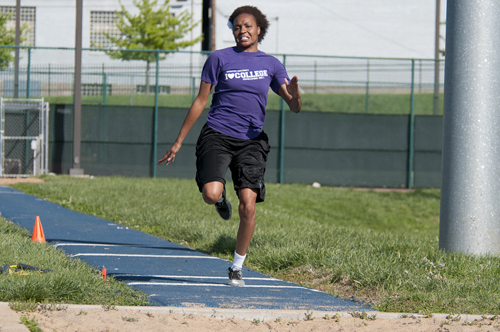 For the second consecutive weekend, the Webster University track and field teams participated in a meet hosted by Washington University. Sophomore Eroica Stackhouse broke two school records, but that was overshadowed by what coach Dusty Lopez called a "flat" meet by the Gorloks.
"It's fairly common, but I think we had a little bit of a mid-season lull," Lopez said. "We've been training hard for a long time, and this is our third (outdoor) competition. I think you just hit a little bit of a dead spot at times in terms of your readiness to compete, and not that everybody did, but I felt like across the board we just looked a little bit flat.
"(We) still had some very good performances — a couple school records, a couple kids who did PR. But the norm was more like, 'Oh, man.' We hoped we were going to be making progress from this point; it wasn't like everybody was patting themselves on the back after their races."
Stackhouse was one of the standout performers for Webster's women's team at the April 7 Washington University Select Meet. Stackhouse bested her own school record in the 800-meter run by nearly one second, as she completed the race in 2 minutes, 34.49 seconds.
Stackhouse finished the 1,500-meter run in 5:09.85. That was almost a second and a half better than the record time she posted a year ago.
Other notable performers for the Webster women included freshman Jenny Howard, who finished fourth in a field of 21 runners in the 100-meter dash with a time of 12.85 seconds.
But for the second straight meet, Howard had to pull out of the 200-meter dash because of a hamstring injury. Howard sustained the injury shortly after completing the 100-meter dash at the WashU Invitational on March 31. She reaggravated it during the 100-meter dash at the WashU Select Meet.
"(The) coaches are saying I'm probably not going to run at SLU (the April 13 and 14 Saint Louis University Invitational)," Howard said. "(They) want to save me for conference and end of season."
Senior Gretchen Rieger didn't have her best toss of the season, but she did finish 10th in a field of 17 in the javelin throw with a distance of 32.25 meters. Senior Tyeila Gant competed in three events and set a personal record in the high jump with a leap of 1.47 meters — good enough for a sixth-place finish in the nine-person field.
For the men, freshman Zachary Zurfluh-Cunningham tied his own school record — which he set at last weekend's WashU Invitational — in the 100-meter dash with a time of 11.58 seconds. Zurfluh-Cunningham just missed out on breaking his own school record in the 200-meter dash, as he placed seventh in the 22-person field.
Aaron Oberneufemann continued his strong junior campaign by finishing eighth in the 400-meter dash. He also finished 15th in the 200-meter dash. Lopez said freshman Jason Hickson, who completed the 3,000-meter run in 9:42.8, set a school record for that event.
Webster was originally scheduled to compete in the April 7 DePauw University Invitational in Greencastle, Ind. But a late invite to the invitation-only WashU Select Meet prompted Lopez to drop the Gorloks out of DePauw so they could compete at WashU for the second weekend in a row.
"I think it was beneficial," said junior Daniel Henkey, who finished 29th in the 800-meter run at the WashU Select Meet. "Everyone got a better night's sleep because of it. We were able to wake up a little later than if we would have went to Indiana. (And) having some local support from our families and friends coming out to cheer on the team was most definitely helpful."
Next up for both the Webster men's and women's track and field teams is the SLU Invitational. The Gorloks then travel to Terre Haute, Ind., on April 20 to participate in the Rose-Hulman "Twilight Meet."
Lopez is pleased with where his teams are at and the progressions they have been able to make. He would like to see even more improvements during the Gorloks' final four meets of the season.
"Obviously, you're never completely satisfied," Lopez said. "You always feel like you have more gains to make. But overall, I would say almost every kid has either improved off their previous best or (is) right at their previous best, and that's always a good sign.
"We've had some (St. Louis Intercollegiate Athletic Conference Players) of the Week, which is a nice thing from the conference standpoint. I think everything's been good, with the qualifier that it could always be better."
Share this post