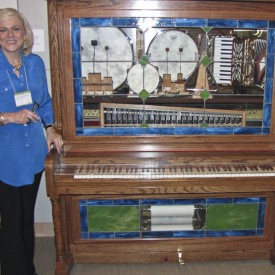 Dr. Aurelia Hartenberger started to collect musical instruments about 35 years ago. She found a flugelhorn, an instrument similar to a trumpet, while she was at a garage sale with her children.
"I didn't know such things (flugelhorns) existed," Hartenberger adjunct music professor at Webster University, said. "Then, all of a sudden, I started investigating these musical instruments and the history of them and I guess I just caught the bug."
Hartenberger was a band director at Oakville High School. She taught her students how to play the instruments she had purchased. Teaching her students sparked her interest to collect musical instruments. Hartenberger has collected approximately 2,500 instruments.
When Hartenberger looked for a place to open a musical instrument museum in St. Louis, she was told to visit the Sheldon Art Gallery. Her instruments have been shown three times at the Sheldon Art Gallery. Her current exhibit runs from February 17-August 18.
The Sheldon Art Gallery is in conjunction with the Sheldon concert hall. The Sheldon Arts Foundation runs both the art gallery and the concert hall. Rebecca Gunter, Sheldon Art Gallery assistant, said they try to connect music into the art gallery as much as they can.
"We have just built a relationship with her and try to use instruments and things from her collection from the jazz gallery frequently," Gunter said.
Hartenberger's exibit, "The Beat Goes On," represents African instruments.
"We have a collection of percussion instruments so there's bells, rattles, drums, footgongs and other African artifacts that are related to music," Gunter said. "It's just unique instruments that you probably won't see in other people's collections."
Hartenberger collects musical instruments from various parts of the world including the United States, Africa, Asia, Central and South America, Oceanic/Pacific, Native America and Eastern and Western Europe. She also collects jazz instruments and music from famous jazz musicians. She buys some of her instruments online.
She has traveled outside of the country to collect instruments.
"One time I made three trips to get a Mayan ceremonial drum," Hartenberger said. "Sometimes you have to make trips to the different countries to research and find answers."
Hartenberger and her husband Jeff own the Hartenberger World Music Collection (HWMC). They started the collection while she was in school at Washington University. The HWMC is an online musical instrument catalog. The online gallery shows instruments Hartenberger has collected from different areas and gives an explanation for each piece.
Hartenberger plays a variety of woodwind instruments including the flute. She also teaches Woodwind Pedagogy at the University of Missouri—St. Louis.
Hartenberger is currently an adjunct associate professor of music at UMSL. She is also an adjunct professor at Webster University. Hartenberger teaches the course Secondary Methods. She is a World Music Specialist at Maryville University.
Hartenberger is still collecting musical instruments, but is selective.
"I continue to buy instruments, but over the years you become more and more knowledgeable about what you really need," Hartenberger said. "You can't take all the courses in the book."
Someday, Hartenberger wants to donate her collection to a St. Louis museum, but preferably not in her name. She wants to keep it in St. Louis where her family and friends live.
Hartenberger wants people to know what her collection is about.
"My collection is about humanity and what mankind has left here on Earth to say who he is as a person and that is what the arts are," Hartenberger said. "They tell us about the beauty of our humanity. So if you want to learn about the beauty of who you are and the beauty of other people from all over the world, you study the arts and you study their artifacts and what they use to express themselves."
Share this post