The World of Wings (WOW) held its annual hot wing eating contest on March 22 in Webster's University Center. The contest had 17 participants — 15 men and 2 women — and also drew a crowd of onlookers.
"We try to do a wing eating contest annually to promote WOW and the food eating area," WOW manager Sheila Stiles said.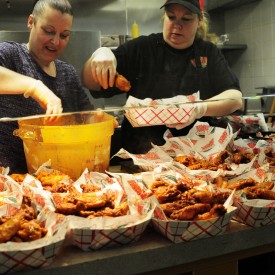 Contestants had to eat as many wings as they could in six minutes.
Junior Anthony Boyajian scarfed down 27 wings in the six-minute time frame and took home the first place prize — a $100 Best Buy gift card. Three other contestants ate 20 wings each. Two of the three were not  originally signed up for the contest, so they tied for third place. Each received a $25 Best Buy gift card. Second place went to the contestant of the three tied contestants who was originally signed up. He received a $50 Best Buy gift card.
Boyajian's 27 wings were still five short of the 32 ate by last year's winner.
Boyajian wasn't among the 20 originally signed up for the contest, but decided to join when a number of contestants didn't show up.
"I had a pretty big lunch," Boyajian said. "I figured I'd try out and see if I'd win or not."
Each contestant was given a 2012 WOW hot wing eating contest shirt, as well as two bottles of WOW hot sauce.
Boyajian's preparation before the contest and strategy while eating the wings earned him a $100 shopping spree at Best Buy. It also gave him the all-important title of the 2012 WOW hot wing eating contest winner.
Share this post