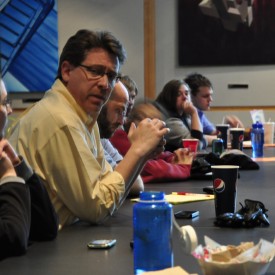 By Megan Favignano and Brittany Ruess
Webster University Residential Housing Association (RHA) hosted its first "House Your Ideas" event on Monday, March 4. Students presented four housing issues to Residential Housing officials John Buck, Justin Frederick, Katie Knetzer, Megan Wetzel and Chris Rice.
Students presented on the following issues:
—lighting deficiencies in Maria Hall and the WVA
—deficiencies in the WVA staircases
—outside furniture and ashtray locations
—speed bumps on the WVA parking lot and Hazel Avenue.
Mariana Mejia Ahrens, president of RHA, said she was excited for "House Your Ideas" because RHA had worked on the event since summer 2011. The idea for the event started then during a RHA retreat.
"Advocating for the voice of the residents was one of the main goals and the way RHA works was already leading into that but no actions were being taken into actually advocating," Ahrens said. "We're using RHA's influence and our tied connection with the pro staff to actually get issues heard and taken care of so we just went a step further and had this event happen. My excitement has been building up from the summer. I was really glad RHA was finally going to have the chance to really advocate and really be the voice of the residents."
Students who attended RHA's Jan. 30 meeting raised their concerns. Each student in attendance was allowed three votes to determine the top issues.
Buck, Director of Housing and Residential Life, said "House Your Ideas" was an excellent effort from RHA.
"This is the advocacy I've been praying for," Buck said.
The Housing and Residential officials will address the issues in an upcoming RHA meeting.
For the full story, read the March 7 issue of The Journal.
Share this post