By Isabella Espinoza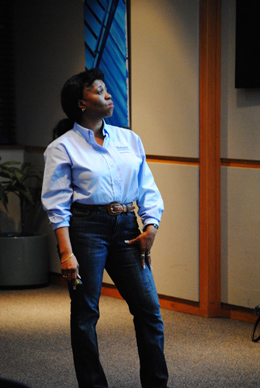 Approximately 30 Webster University student athletes attended a discussion on eating disorders, in recognition of National Eating Disorders Awareness week, on Feb. 26 in the Sunnen Lounge. Gladys Smith presented at the event, which was promoted by the St. Louis Intercollegiate Athletic Conference.
Smith is a certified advanced substance abuse counselor. She worked in substance abuse treatment centers and psychiatric hospitals prior to her current job as a Webster University counselor. At the presentation, she encouraged everyone to speak up when they're worried about a friend.
"Please get involved. For you or for someone you're worried about, talk to a coach, a teammate or a friend," Smith said during the hour-long presentation. "Break the silence and just talk about it. The hardest thing to do is ask for help, but it's OK to ask for help. It's a sign of strength. That was the goal tonight, for you guys to open up and talk about this."
Smith worked as an emergency medical technician in the U.S. Navy. Her work with the Navy sparked her desire to become a counselor. Smith began working with substance addicts, where she witnessed a self-induced trauma as a result of weight.
Smith discussed the correlation between athletes and eating disorders. She opened the session by asking student athletes to read a list of bulleted facts concerning eating disorders and their presence in the athletic arena.
Elite gymnast Nadia Comaneci, boxer Mia St. John and cross-country runner Whitney Spannuth are on the list of professional athletes who have suffered from eating disorders.
"The numbers aren't changing," Smith said. "They are going up, and it is an issue that is not talked about enough."
Smith said the danger begins when athletes form a distorted view of how to improve their performance. They become convinced that dropping weight equates to increasing speed and agility, but, in actuality, they begin to lose lean muscle.
Lean muscle is essential for endurance and for properly sustaining the human body, Smith said. An even bigger threat arises because of the imbalance of electrolytes, which the athlete unknowingly causes. This imbalance puts athletes at great risk of heart failure.
Smith said eating disorders are diseases of disconnection with perfectionism. She said that is the main issue. This desire to be perfect transcends race, socioeconomic status and gender, and affects eight million Americans.
"The death rate caused by eating disorders was very surprising," said freshman men's basketball player Izodeosa Obaseki. "I did not know that it was the leading cause of death for girls 15 to 24."
In her years of research, Smith noticed depression and anxiety were common in athletes. Those two factors are the top causes of eating disorders. Smith said it should not be surprising that many athletes suffer from eating disorders, because it's a topic not often discussed.
Smith said once the pattern of an eating disorder develops, it is difficult to break. Secrecy by the victims can make it easy for others to remain oblivious to their struggles.
Freshman men's basketball player DeVon Haynes said he was surprised at the correlation between athletes and eating disorders.
"Statistics about athletes having eating disorders was surprising, because I did not think it was a relevant issue before tonight," Haynes said.
Information on athletes and eating disorders will be presented at eight SLIAC schools. For more information regarding facts and effects of eating disorders, Smith can be reached at gmsmith@webster.edu or visit nationaleatingdisorders.org.
Share this post