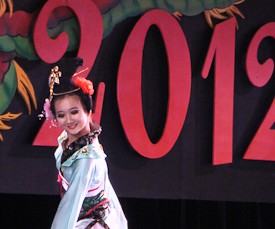 Chinese dancers moved in unison across the stage. The long sleeves of their gowns fell as they raised their arms. A large banner with a dragon surrounding "2012" hung behind the performers.
The Confucius Institute at Webster University and the Confucius Classroom at St. Louis University High School hosted a team of Chinese performers Feb. 27 and 28, at SLUH's Joseph Schulte Theater. St. Louis was the performers' third stop on their 2012 Spring Festival Performance tour. More than 500 people attended on Feb. 27.
The performers are students from the East China Normal University. Despite not being art majors or professional performers, Li Fang, Confucius Institute program director, said the dancers performed in a professional way.
"Every time, it's a very exciting event for St. Louis. Not only for our students, but for the whole community," Fang said.
Yamin Wu, a dance teacher at St. Louis Chinese Language School and Webster alumna, attended the Spring Festival with the principal of St. Louis Chinese Language School. Both paid special attention to the costumes. They hope to take some ideas back to the Chinese Language School.
Fang said her students most enjoyed the changing face performance, Bian Lian. A masked man moved about the stage, changing his mask quickly and without the audience's knowledge. His masks represented different characters.
The technique of changing masks in the changing face performance is not taught in Chinese schools. The technique is passed down in families. Fang said usually fathers teach it to their sons. The mystery behind the mask changing is why Fang said her students enjoyed this performance.
After their performance, a group of dancers invited children from the audience on stage. The Chinese dancers, dressed in ornate clothing, taught the children Chinese dance moves.
"Those kind of performers will become a bridge between America and China," Wu said.
Hanban, Confucius Institute's Headquarters, sent the tour to St. Louis after the Confucius Institute in St. Louis invited them.
SLUH's Confucius classroom is a subdivision of the Confucius Institute. The Confucius Institute provides support, supplies and books in return for the promotion of Chinese culture. Fang said there are about 350 Confucius Institutes all over the world.
Fang said she most enjoyed the folk song performed which used the pipa — an instrument which looks like a small guitar, but is played vertically.
Share this post