Eliana Aparecida de Oliveira, a Brazilian dancer dressed like the Chiquita banana girl glided her way through Sunnen Lounge, grabbing audience members from their seats to join her. Brazilian music greeted people at the door while a line gathered to try Latin-American food displayed on a table.
The Center for International Education and the Latin American Student Organization (LASO) hosted Carnaval at Webster University from 12 to 2 p.m. on Feb. 23 in the Sunnen Lounge. Carnaval is an annual Latin-American festival that occurs before Lent and is the most famous holiday in Brazil.
LASO and the CIE provided free food, which consisted of mini Cuban sandwiches, chips and guacamole, sweet plantains and arroz con leche (rice pudding). Students, faculty and staff had the opportunity to get their faces painted and decorate masks; both are very popular Carnaval traditions.
—

Video by Josh Coppenbarger
—
Samba Bom, a Midwest-based band, performed Brazilian music throughout the entire event which ranged from Bossa Nova, Brazilian Jazz and Samba. Mo Marchini, director of Samba Bom, used a berimbau, a single-string percussion instrument.
"We were interested in this group because they've performed with us in the past," said Kate Brooks, department associate for the CIE. "They explain each song and the history of the Carnaval. If you just had an event with music that meant nothing, students wouldn't get anything out of it."
Brooks, who is also an advisor for LASO, joined the organization because she said she wanted to work with students more on a one-on-one basis. She has never been to Latin America, but she does speak Spanish.
Maria Alejandra Arias, president of LASO, said the event resembles the Carnaval in Brazil.
"This is a Brazilian themed Carnaval," Arias said. "It's kind of where Mardi Gras has come from. Pretty much like the Carnaval in Rio (de Janeiro); that's kind of the theme."
LASO has hosted a Carnaval celebration for the past three years. Arias said that one of LASO's missions is to bring the Latin American culture to Webster. With Carnaval, they keep the same traditions of their culture every year.
"There's always something different to it, but for the most part we always have the live samba music and the Carnaval dancer to portray the Brazilian culture," Arias said. "We also like to have Latin-American food for everyone to try since many people haven't tried these dishes."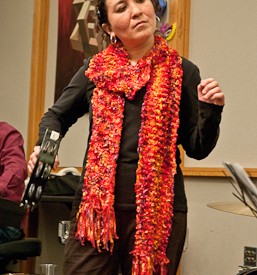 During the event, a dancer danced to several of Samba Bom's songs. The dancer donned three different colorful costumes. In one costume, she wore a hat made of assorted fruits and feathers. She accompanied it with a blue, two-piece outfit. It had yellow, green and white, layered ruffles encircling the bottom of her skirt and on her shoulder. She also gave samba lessons to anyone who was interested. She first taught the students all together in a group session. She then had them partner up to dance with one another.
Charles Jacobs, sophomore media communications major, participated in the dance lessons at Carnaval. Jacobs said watching a projector showing footage of Carnaval made him want to go to Brazil because, "it looked real flashy." He also said he learned the limits of his dancing abilities.
"I cannot do the samba," Jacobs said. "I had not done anything like this before, but next time I'm going to come back harder and stronger, get my dance moves together and we're just going to rock out."
Share this post