Nice Guys Finish First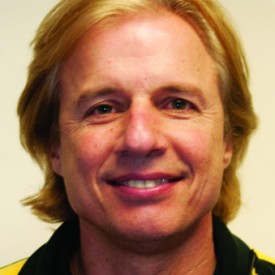 When I was 11 years old, my uncle told me "nice guys finish last." He said you have to strive to be the best no matter what, and take no prisoners. That was a long time ago, and for years I discovered — for the most part — he was right.
I am not your typical Webster University student. I am 53 years old and am back in school because of my love for sports. Sometimes I have to ask myself why I am doing this. But every once in a while, I realize what my uncle said isn't true, which inspires me.
I don't know if my age gives me a better perspective on what goes on at Webster's campus, but I certainly take notice of my surroundings — particularly people in the sports arena.
There is a group of Webster coaches and administrators who are well above the norm. Yes, they are busy and determined to succeed, but they insist on doing it the right way. They care about others and are considerate people; yet, they are at the top of their field in Division III athletics.
Men's soccer coach Marty Todt, Director of Athletics Tom Hart and cross-country and track and field coach Dusty Lopez fall into this category. All three have different roles at the university, but they are the ultimate all-stars at Webster. They are true Webster winners.
Todt has coached soccer at Webster for 24 years. He loves the game, but you don't have to look far to see that is not where his heart is. He is passionate about his players' well being and is concerned about their future, as he stays connected to them long after they leave Webster.
He is even called a father figure by several current and former players. Todt has over 240 victories in his career at Webster and was recently voted into the St. Louis Soccer Hall of Fame. He is the most genuine and sincere man at Webster University.
Hart, who has been at Webster for 18 years, is a gentleman who loves Webster, and his spirit for the school is undying. He attends Webster sporting events frequently and is concerned about the student athlete.
Hart initiated the UrbanFUTURE program at Webster, where athletes tutor youths in the St. Louis area. He currently has one of the most tenured and successful coaching staffs in the SLIAC. He once told me he wouldn't trade his job for any Division I position in the country.
Lopez has taken on the task of running not one, not two, but four teams at Webster — men's and women's cross-country in the fall and men's and women's track and field in the spring.
The first time I ever spoke to Lopez was two years ago, and I was very nervous. It was my first story for The Journal.  He took time from his extremely busy schedule to make sure I got what I needed. He sensed I was uneasy and helped me through it. His professionalism and demeanor is second to none and he is revered by the athletes he coaches.
Lopez always finds time for others. In 2008, he brought back a men's cross-country program that had been shut down since 1990. This past season, the women's cross-country team won its first SLIAC championship in school history.
In the hustle and bustle of life, it is easy to take short cuts and forget what others' needs are. These three people remind us all that sometimes nice guys can finish first.
Share this post