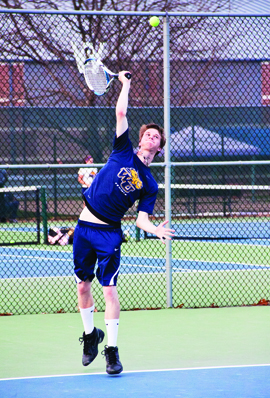 The Webster University men's tennis team started its spring season with an 8-1 victory over Illinois College on Feb. 11 in Jacksonville, Ill. The men swept the singles competition and lost once in doubles play.
In singles competition, junior Diego Alarcon led the way with a 6-1, 6-1 victory over his opponent in No. 1 singles. Junior Ricky Eaves won 6-4, 6-1 at No. 2, while junior Francissco Cortez won his first match as a Gorlok, 6-3, 6-1, at No. 3 singles.
Freshman Josh Papes had a solid 6-0, 6-1 win at No. 4, junior Wakeel Rahman went to three sets before taking over for a 4-6, 6-4, 6-3 win and junior Dustin Thode won 6-4, 6-2.
In doubles play, Alarcon and Cortez took care of business at No. 1, 8-3, as did Eaves and Papes at No. 2, 8-1. The third match came down to the wire but the freshman tandem of Carlton Poindexter and Zach Selby fell short by a score of 8-6.
"There are some new guys that are playing their first games for Webster, so it is important for them to start getting experience," Alarcon said. "The freshmen are getting better and each game they are obtaining more confidence. They will need to work really hard if they want to play in the first six."
Coach Michael Siener said he was excited about his team's win in its first match of the spring season.
"We played well — everybody played well," Siener said. "The score was 8-1, but it was closer than that. I wouldn't say we dominated."
The Gorloks improved to 5-1 for the 2011-2012 season and have won four straight matches dating back to September 2011. For Webster to succeed this season, the four, five and six players will need to have a good year.
"It's going to be a team effort this season," Siener said. "Everybody is going to have to play well, be consistent and play well throughout the lineup. We'll be pretty good."
Alarcon opened the spring season with two victories. He will be the Gorloks' top-seeded player, as former No. 1 Agustin Villalba is studying abroad and will miss the season.
"I didn't have any complications; I felt really good with my level of play," Alarcon said. "However, it's going to be a long season and anything could happen."
With Villalba gone, Eaves will play either No. 2 or No. 3 this season.
"This year, I project it will be my best year on the tennis court," Eaves said. "Second place is not an option."
For the next three weeks, both the men's and women's teams will be practicing at the Webster Groves Tennis Center, at Webster's fitness center and in Grant Gymnasium. The Gorloks don't play again until March 3, when they take on Lindenwood University-Belleville at the Webster Groves Tennis Center.
"We will do drill work (and) work on our doubles stuff because that is our weak point as of now," Siener said. "(We will) spend more time conditioning, making sure we are in better shape. I want to make sure we're in great shape for the stretch run for conference play."
Share this post