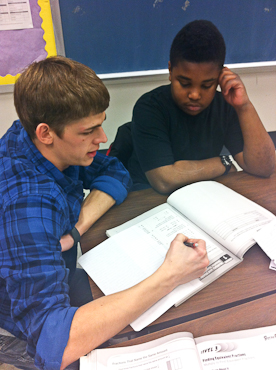 Webster University student athletes embarked on their third consecutive semester of volunteering with UrbanFUTURE St. Louis, a program that brings tutors into six area inner-city schools. Currently, athletes from Webster's tennis, cross-country and volleyball teams tutor students from Froebel Elementary School in math and reading once a week.
"The opportunity to have a relationship with these student athletes is very powerful for (the elementary students)," said Emily Felsenthal, coordinator for UrbanFUTURE at Webster.
Athletes are strongly encouraged, though not required, to participate in UrbanFUTURE by Webster Director of Athletics Tom Hart. Hart helped initiate the program at Webster in January 2011 when UrbanFUTURE expanded its range of schools and was looking for more tutors.
Webster used to have a similar tutoring program with Hudson Elementary School in Webster Groves. The program ended in 2004 when the Hudson principal retired. Hart said he searched for another group to connect with, which he found with UrbanFUTURE last year.
"This partnership is so much more structured," said Martha Davis, Hart's assistant and an assistant tennis coach. "It just works out."
Hart, who was a tutor last year, is a mentor in the program this year. He still meets with students each week for tutoring, but now he also coordinates with the students' families to set goals. Hart encourages student athletes to participate in the program in order to inspire students and help them improve in school.
"They're getting a role model, they're getting tutoring in an area where they may not be proficient, and we're giving them an opportunity to change their lives," Hart said. "By and large, student athletes understand the value."
Many of the students at Froebel and the other schools involved in the program are several grade levels behind in reading and math skills before beginning tutoring. Felsenthal said she has seen an incredible improvement in students who are tutored by Webster athletes.
"The impact on students is legitimately remarkable," Felsenthal said. "Just looking at the raw data and test scores, because of what the Webster students are doing, (Froebel) students are learning three times faster. They come in three grades behind and they're catching up to grade level and are much more ready to go on and do whatever they want."
Freshman volleyball player Allie O'Toole finds tutoring particularly valuable for student athletes participating in UrbanFUTURE this year. An education major, O'Toole sees tutoring her two Froebel fifth graders in math as practice for when she becomes a teacher.
"It's helping me with experience working one-on-one with students and making sure they understand the things they're learning," O'Toole said. "It also helps to learn patience with the kids I'm going to teach."
Student athletes meet with their Froebel students for an hour and a half once a week for eight weeks. Several students choose to continue tutoring after the eight-week period. Felsenthal said the Froebel students build a relationship with the Webster athletes, asking about them throughout the week before their tutoring session.
Last year, some athletes expressed concerns about the program. Athletes said the students being tutored were restless and would not focus during the tutoring session. Hart said feedback has been mostly positive this year.
"The first day I found it very rewarding," said freshman tennis player and business management major Marissa Lewis, who tutors a Froebel fifth grader in reading. "Yes, they're going to have their days when they don't want to do things, but the first week I sat my student down and she got so much work done."
Hart said freshman athletes are usually excited to begin tutoring. Some upperclassmen, though, have trouble fitting tutoring in with their schedules. In attempt to ease the troubles, athletes usually tutor in their sports' offseason, and tutoring schedules are flexible.
"The time commitment we ask is not an over-burden," Hart said.
Hart, along with Felsenthal, feels the UrbanFUTURE tutoring is a valuable learning experience not only for the Frobel students, but for the student athletes. O'Toole said she was surprised Froebel students were falling so far behind in school.
"I guess I didn't realize that not everyone has the same advantages," O'Toole said. "Not all schools have the highest qualities. It's just different from what I've experienced before."
Share this post