Family and friends reflect on the lives of Terry Jackson, Kirk Cappello and Tony Saputo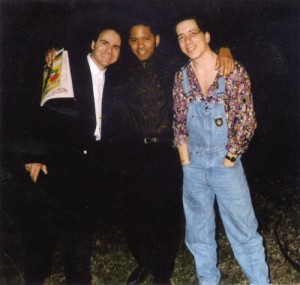 Terry Jackson, Kirk Cappello and Tony Saputo were three young musicians doing what they loved — creating music and enjoying life — when they tragically died in a 1991 plane crash. They were a part of Reba McEntire's road band traveling out of San Diego when their plane crashed into the Otay Mountain. Jackson was a bassist, Saputo was the drummer and Cappello  acted as McEntire's musical director and a keyboardist.
The trio attended Webster University in the 1980s, but grew closer as friends and musicians when they joined The Ralph Butler Band. Phil Cappello, father of Kirk Cappello, said they were a dynamite rhythm section.
"They were the soul of the band as far as I'm concerned," Phil Cappello said. "They were like the three musketeers. They were young. They were having a ball."
To Ralph Butler, they were the foundation of the band at the time.
"If I wanted to do a song I knew the chords would be there, I knew the rhythm would be there and I knew the bass would be there," Butler said. "It's like I could miss a note, but they didn't."
After working with The Ralph Butler Band, Kirk Cappello went on to work with country music singer Barbara Mandrell, a good friend of McEntire's.
In 1984, Mandrell suffered from injuries in a car accident. Kirk Cappello came back to Webster and graduated in 1987.
Reba McEntire was starting to gain more popularity in the late 1980s. She brought on Kirk Cappello as her musical director. He then wanted to rebuild McEntire's band.
His first two choices — Tony Saputo as drummer and Terry Jackson as bassist. The trio was together again.
They toured with Reba for a year and made appearances on late night shows such as "The Tonight Show."
"Tony called right after the performance and wanted to know how they sounded. I kept saying, 'Tony, I can't see you behind Reba's big hair.' And he was like, 'That's OK, that's OK. How did we sound?' " said Nancy Saputo, Tony Saputo's sister. "He was all about the quality of the music and how they sounded."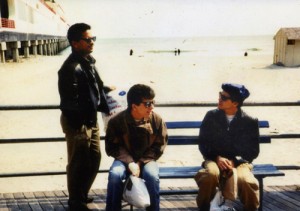 Twenty years after the plane crash, the loss of a son doesn't seem real to Terry Jackson's mother, Betty.
"At least Terry was doing something he loved," Betty Jackson said. "Some days it seems like yesterday."
For Phil Cappello there is still a hole.
"You never get over the shock," Phil Cappello said. "Your kids aren't supposed to pass on before you do. They normal progression is your kids get old, they bury you. It's a terrible shock when you lose a child. You never get over it. And, there's always a hole, but you go on. What choice do you have?"
The idea for the Terry Kirk Tony (TKT) Jazz Scholarship came soon after the accident as money contributions poured into the Jackson home.
"My husband wanted nothing to do with that because he knew that wouldn't bring Terry back," Betty Jackson      said. "We wondered what can we do and we thought about it."
Then, after much discussion between the three families and help from Webster, the TKT Jazz Scholarship was established. The first concert was on March 30, 1991, only 14 days after the accident.
Although the Jacksons, Cappellos and Saputos had  met before the accident, they grew closer afterward. The families communicate regularly throughout the year and see each other over the holidays.
"It's like getting together with another family," Phil Cappello said. "You talk about what you're doing, what's going on and eventually you get around to talking about the kids and you can't talk about your children without talking about the three boys."
Terry Jackson
Lon Jackson said his son, Terry Jackson, was always trying to reach the next level even as a beginning musician.
"When I used to go to bed at night, he would have ear phones on so it wouldn't make any noise while he playing guitar. Then, I'd wake up the next morning, getting ready to go to work, and he's still in there. There's a certain sound that he wanted and he's not satisfied until he gets it," Lon Jackson said.
Terry Jackson attended Webster but left after two years. He could read music and was already a proficient musician.
Terry Jackson left for California in 1986.
"And then, one night he was listening to Joan Rivers on TV and Thomas Dolby was on their saying he wanted to explore a new band and he wanted the person to send an 8 by 10 glossy, finished photo, a tape and a resume," Betty Jackson said. "Then, Thomas Dolby said this weird cat from St. Louis put: I'm Terry Jackson, I play a funky bass; wrapped it around a homemade cassette and sent it in and he said he had to meet Terry. Hired him on the spot."
Terry Jackson was nominated for a Grammy as best supporting musician for his work with Thomas Dolby on the album "Aliens Ate My Buick."
Terry Jackson was a studio musician for other artists such as Paula Abdul, Robbie Neville and Michael Jackson.
Betty Jackson recalls talking with Terry Jackson about working with the king of pop in the studio.
"I said, 'Wow, Terry.' He said, 'Ma, it's no big deal. Have you ever seen a band behind Michael Jackson?' I said, 'Well, I guess I haven't.' He said, 'Well, one day you're going to see Terry Jackson.' "
Nancy Saputo gave Betty Jackson a copy of the February 2010 issue of Bass Player Magazine. Attached to the magazine was a note.
"The note said that she hoped I had some Kleenex, sit down and turn to page 42," said Betty Jackson.
On page 42, was Terry Jackson's name as one of Michael Jackson's favorite bass players for his work on "Black or White" from the "Dangerous" album.
Kirk Capello
Kirk Cappello's mother, collects frog everything — stuffed animals, pins, etc.
"One time, when Kirk was really little, he was in the tub and I said, 'You look like a frog,' " Phil Cappello said. "It got to be a running line throughout the family. I would draw him cartoons with frogs as the central protagonist. When we traveled we would bring him back stuffed frogs. He had a house full of it too and he finally said, 'No more frogs.' "
Kirk Cappello was interested in more than frogs as a child — he found a love for music as a toddler. He started playing piano, like his father, in grade school.
"We had pianos in the house of course," Phil Cappello said. "He just took to it like a duck to water. He just had talent."
Kirk Cappello progressed as a musician and passed through enough teachers to start working with Herb Drury, a talented performer and teacher.
Throughout Kirk Cappello's life, his parents attended his performances.
"When we had options to, his mother and I would go see him perform and just grin like happy saps like parents always do when their kids are performing," Phil Cappello said.
When he went to work with Mandrell, Kirk Cappello was worried about leaving Webster.
"My thoughts were then as they are now. That door opens for very few people. When you get the opportunity you have to take a chance at it," Phil Cappello said. "You can always go back and pick up the things you have started before."
Tony Saputo
Ralph Butler remembers the three as a fun group — especially Tony Saputo.
"It was always something different, especially with Tony. Tony was a prankster," Butler said. "Tony would do everything from hide my shoes to put itching powder in my socks. He was just fun."
Nancy Saputo said her older brother always loved music and was a self-taught drummer.
"He really believed that someday he would make it big," Nancy Saputo said. "He was very humble though, so he never went around saying that. He worked really hard."
While studying at Webster, Tony Saputo was a student teacher at a grade school and would play in a band at night.
"He loved his time at Webster," Nancy Saputo said. "He liked that fact that his friends were here, but he also got a kick out of teaching younger kids who were learning how to play."
Tony Saputo was often at the Jackson home and spent holidays with Terry and his family. He and Terry Jackson were inseparable.
"We used to call them our salt and pepper twins," Betty Jackson said. "We wouldn't see one without the other."
Phil Cappello also remembers Tony Saputo as a fun character who was also always at the Cappello home.
"Tony was just a blast," Phil Cappello said. "Tony was more fun than two or three kids and he always kept everybody entertained."
Share this post