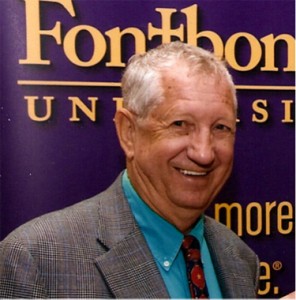 After former Fontbonne University men's basketball coach Lee McKinney coached his 700th consecutive game without missing a single one, he decided if he had gotten that far, he might as well keep going.
McKinney knew basketball would be his future at an early age. There was a court outside his home in St. Clair, Missouri, and when he played basketball by himself, he would pretend he was the coach of his own imaginary team.
"I'd call a timeout and tell my players, 'I want you to stand here and you to stand over here. You cut this way and you cut that-a-way, we'll have so and so pass the ball to you, you'll make a layup and we'll win,'" McKinney said.
McKinney lived out his coaching dream despite being diagnosed with cancer on three separate occasions. In 1996, McKinney found out he had colon cancer. He recovered from it, but in 2002, he was diagnosed with metastic colon cancer.
It didn't matter. McKinney continued coaching at Fontbonne despite his illness. He persevered through the cancer without missing a game. McKinney, and the streak, survived.
In 2010, the cancer came back. McKinney began chemotherapy on July 12. McKinney wasn't going to let his third bout with cancer get in the way as he prepared to begin his 23rd year of coaching at Fontbonne.
But as February 2011 began, the cancer started to take its toll. McKinney had lost 50 pounds in eight months, and on Feb. 15, he was admitted to St. Luke's Hospital. The next day, when Fontbonne played Greenville College, McKinney wasn't on the sideline for the first time in nearly five decades.
McKinney, 75, coached 1,425 games in a row before missing the Greenville game. He began his coaching career in 1959 at Qulin High School. After coaching high school basketball in Missouri and Illinois for 19 years, he took the coaching job at Missouri Baptist University.
In 1988, Fontbonne hired McKinney as their athletic director and men's basketball coach. During his 52-year period of coaching, not once did McKinney miss a game, and only in the rarest of circumstances did he miss a practice.
"With God's help and direction, He allowed me the opportunity to coach over a period of seven decades," McKinney said. "The more the games added up, the less I wanted to quit. It got to the point where if you've gone this long without missing, just keep going as long as you can. And I wouldn't have missed the (Greenville) game had I not gotten to the place where I just couldn't go physically."
Three days after the Griffins played Greenville, McKinney had to sit out the team's game at Blackburn College as well. As Fontbonne prepared to play their final game of the season against Webster University on Feb. 22, there was speculation that McKinney would find a way to make it to the game.
It wasn't meant to be. On Feb. 22, McKinney announced his retirement. People close to McKinney knew it was coming; his health had to be his first priority. The St. Louis Intercollegiate Athletic Conference lost one of its founders. Fontbonne lost one of its legends.
"Probably if I hadn't had been sick, it might have been a harder decision," McKinney said. "Being sick on top of it made it easier because I really didn't have any choice. I couldn't have gotten there even if I wanted to."
McKinney said he made the decision to retire with the help of his wife of 55 years, June McKinney, and their three children: Denny, Dena and Dino.
As of March 1, he remains in the hospital, battling a series of lung-related problems. June McKinney said she believes Lee McKinney will be able to return to his home in Florissant in the upcoming days.
"We could have given up long ago, the first or second round of cancer," June McKinney said. "Our faith, that's what keeps us going, and lots of prayers. Every phone call we get or every card we get says, 'We're praying for you.' So if everybody is, God's got to be listening."
Coaching Career
After graduating from St. Clair High School, Lee McKinney played basketball on a scholarship at Southeast Missouri State University and earned degrees in physical education and history in 1960. Years later, he received his master's degree in secondary education administration from Southern Illinois University-Edwardsville.
Lee McKinney began coaching collegiate basketball at Missouri Baptist in '78, and he compiled a 188-126 record in his time at the university. In '88, the administration at Fontbonne approached Lee McKinney about starting a men's basketball program.
Lee McKinney said he has always enjoyed the challenge of building a program, so he took Fontbonne's offer and became the university's athletic director and men's basketball coach. He was one of the founding members of the SLIAC, which began play in 1990.
Lee McKinney said in the SLIAC's infancy, the competition was poor. But he never had a doubt the conference would survive. Over the years, Fontbonne and Webster developed a rivalry that remains strong to this day.
"It's a good rivalry, a clean rivalry," Lee McKinney said. "It's due to the part that (Webster Athletics Director) Tom Hart and I are very good friends. We both like to win, but not at all costs. We encourage our student athletes to play hard, win with fairness and with respect to each other. I think the SLIAC is something that is here to stay."
John Thomas, who played for Lee McKinney from 2000-2003 and coached at Fontbonne from 2006-2009, said Lee McKinney cared more about how his players performed in the classroom than on the court.
"The most important thing I want to convey about Coach McKinney is he always put academics and bettering the student athletes first, and that is the highest compliment you can pay a Division III coach," Thomas said. "He was more concerned about your development as a person and as a student than he was the athletics. That is the appropriate message to put out, at the Division III level, in the SLIAC and at Fontbonne University."
Lee McKinney has earned several awards during his coaching career, but he said the biggest honor is still to come. On April 2, the same day the NCAA Division I men's basketball Final Four begins, Lee McKinney will be presented with the National Association of Basketball Coaches Outstanding Service Award in Houston. The award is given to coaches whose actions have distinguished them as valued members in their communities.
Thomas said that because Lee McKinney has touched so many lives, news of his resignation was difficult for the Fontbonne community to handle.
"It's sad for many of us because Fontbonne is like a family," Thomas said. "To have the head of the family step away, it pains a lot of us. But we're wishing the best for coach and hopefully the program moves forward under the same principles and guidelines that Coach McKinney stood for."
Share this post