Alumnus returns to teach at alma mater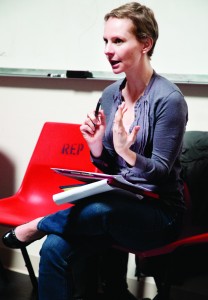 When Tarah Flanagan walks into her classes at Webster University, she knows exactly how her students feel — it wasn't long ago that she was in their place.
Flanagan just began teaching for Webster's Conservatory, a program she received a bachelor's of fine arts from as an undergraduate student. She took over the second-year movement class for professor Gary Glasgow, who went on sabbatical in January.
"Coming to Webster (as a student), it was my first time living out of California," Flanagan said. "That first big move, no matter where you're from, is temporarily shocking. But I loved being able to immerse myself in the serious study of acting. There was value in everything."
After graduating, Flanagan went on to get her master's degree from the University of Alabama, as part of the Alabama Shakespeare Festival. Since then, she has worked as a professional actress on stage and in small parts on television. Flanagan has lived in New York and Los Angeles while traveling around the country for different productions. As well as teaching at Webster, she is the assistant director of the Shakespeare for Young Actor's program at the Great River Shakespeare Festival.
"(Theater) is endlessly fascinating to me," Flanagan said. "It's a challenge on all levels because you're dealing with what it is to be human."
Flanagan said coming to Webster as a faculty member was a strange experience for her, since some of her colleagues were once her teachers.
"So many of the professors were my professors," Flanagan said. "The spaces and classrooms were mine. It makes me giggle a little bit to think I'm going to a faculty meeting and sitting next to them."
In class, Flanagan teaches her second-year students physical characterization and scene study. Through isolating and exploring individual aspects of a character's physical life, Flanagan said students learn to make physical choices about a character's life.
"She's great," said Charlotte Byrd, a sophomore musical theatre major and student of Flanagan's. "She has such a positive attitude, and she's always happy to be there."
Kurt Hellerich, a sophomore acting major, said having Flanagan in class has helped bring more perspective to his acting. He said her professional background brings a different energy to the class.
"Her primary job is a professional performer, as opposed to being an instructor," Hellerich said. "It's always good to have multiple perspectives on the same thing. (Flanagan teaches that) character work is a slow, steady process. It's not so simple to implement it all at once."
Hellerich and Byrd both said that Flanagan brings a youthful approach to their movement classes. They also said they're comfortable asking her questions about acting professionally.
"Since she's been working as a professional actress, we can ask her direct questions about the business and she usually has the answer," Byrd said. "She's a teacher, but also like a mentor."
The classroom atmosphere has also taught Flanagan how to improve her art. She said she learns as much from her students as they learn from her.
"I love that they challenge me," Flanagan said. "Sometimes when they ask me a question in the moment, I don't know the answer. They are so eager to learn, I couldn't ask for more."
Being a professor at Webster keeps Flanagan separated from her husband, who is also a professional actor. Flanagan said the couple manages long distance to work in a profession they both feel is rewarding.
"There's a downside to every profession," Flanagan said. "It's very easy to see yourself as put upon or a victim. It's important to remember this is the life I chose because I love it."
While pushing students to "live with the scene" and work hard analyzing the details of a character, Flanagan's enthusiasm for the stage is passed on to the sophomores.
"Everyone is so willing to dive in and explore," Hellerich said. "We're not afraid with her."
Share this post