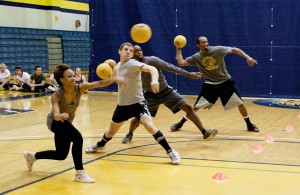 By Andrea Sisney
The thud of foam balls making solid contact with a dancer's body reverberated across Grant Gymnasium as he hit the floorboards. His teammates filled the air with disappointed groans as the triumphant player on the other side of the gym raised his fists in the air, pumping them with joy.
"Who doesn't like dodgeball?" said Mershauna Clay, sophomore dance major, from the sidelines.
It was this philosophy that led junior dance major Matthew Schmitz to organize the dodgeball tournament as a fundraiser for the Webster University Dance Club. Schmitz said he got the idea from a friend in a business class.
"We all played dodgeball in school," Schmitz said. "We're trying to raise money. I think it's fun so I decided to do it."
Athletes with grace
Players showed up wearing sweatbands, neon spandex and tube socks. Several Webster students came to watch the games. Most players were from the dance department, but one team, who called themselves the Flint Tropics, was comprised of six non-Webster students.
"I just love dodgeball," said Flint Tropics team member Jason Schneider. "I like to hurt people."
After a couple warm-up scrimmage rounds and a thorough explanation of the rules by Schmitz and his fellow referee sophomore dance major Sam Mitchell, the tournament started.
The teams played to the best of three games per round. After a mad dash to the center, players incorporated acrobatic leaps and graceful spins into the rounds, making the game seem more like an artful performance. Most games started with heavy, nervous pauses which gave way to a flurry of projectiles. Between rounds, dancers pirouetted for fun, constantly moving. Cheers and good-natured smack talk filled the auditorium.
"Come on, twinkle-toes!" exclaimed several male competitors throughout the tournament.
Competition was steep, but the goal of the night was to have fun. When junior dance major Ashreale McDowell eliminated her first opponent of the night standing alone against five intimidating male opponents, she met cheers with an elated leap.
"I did it!" McDowell squealed.
The teams full of dancers, Oreos, Bad Guys and Scrubs, were eventually beaten out by Flint Tropics, who got their registration money returned to them along with a trophy the size of a tea cup from a child's tea set.
"There were a lot of good sports," Schmitz said.
The tournament took place in Webster's gym on Friday, Feb. 4 at 7 p.m. Teams of eight paid $50 to register, with individuals paying $6.50 to play. The proceeds will help send students travel to the American College Dance Festival (ACDF) in Wichita, Kansas.
Schmitz broke up the three registered teams into four teams with six players each.
Competition for a cause
Before the dodgeball tournament, Schmitz was told students in Dance Club needed to raise $5,000 in order for the department to feel comfortable about ACDF. The tournament, along with the bake sale held during the tournament, raised $146.  He said he believes the snow days earlier in the week kept word from circulating.
"Next year, I'll get the word out sooner," Schmitz said.
ACDF is a national festival for college dance programs.Webster attends the Midwest region festival, held in Wichita this year. Schmitz described ACDF as dance playoffs.
"Going to ACDF, you see where your school stands around your area," Schmitz said. "It shows how strong a program Webster has."
Webster presents one student-choreographed piece for adjudication, one faculty-choreographed piece for adjudication and one informal piece, without adjudication. Most student in the dance department will attend the festival, held in April this year. Students have the opportunity to get feedback and network with other dancers.
"It's a great way to talk about dance and see dance," Schmitz said. "Sometimes a different teacher or a different environment allows you to wake up and hear a correction you need to make, and it clicks."
ACDF takes place every year, and 10 pieces are chosen from each region to attend nationals, which are held every other year. These final performances are showcased in a Gala at the end of the festival.
"We're trying to get a bus so we don't have to take a couple small vans," said a senior dance major, Amber Franek. "ACDF is a big resume builder. It's really cool to see what others are doing, what the new trends in dance are."
Dance Club will continue to raise money for ACDF, holding more master classes and other events. It currently has plans to hold ballroom dance classes before Valentine's Day. The classes will be open for couples and single participants, and will feature a variety of dance styles.
Share this post