Webster University's Study Abroad department recently hosted a "Global Food Tour" at Marletto's Marketplace. The event was to help raise awareness for the program as it gets back into full swing.
Webster University's study abroad program is back this year after its COVID-19-induced hiatus.
"The group of students currently abroad is much smaller than a typical pre-COVID semester, but it's exciting to have students studying abroad again," Study Abroad adviser Tyler Worlund said.
Webster's study abroad program ranks in the top 2% of study abroad programs surveyed in the 2019 U.S. News & World Report. While the program is back this year, it's still not in full swing for the fall semester due to COVID-19 restrictions in different countries and the general worry of the pandemic preventing students from wanting to study abroad.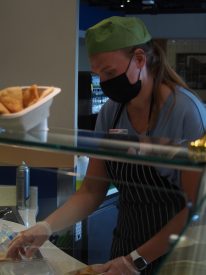 To spread awareness of the program, the Study Abroad department held its first-ever study abroad week from Sept. 13 to Sept. 17, featuring virtual informational and advising sessions. However, it also hosted an in-person "Global Food Tour" at Marletto's Marketplace, where students could learn more about the program while trying out foods from across the world.
"We were lucky enough to be able to host in-person events this year, and that has seen a great student turnout," Study Abroad peer ambassador Kamryn Moore said. "Students are ready to get out of their rooms and off Zoom, so we are trying to capitalize off that by having in-person events."
While the program is still going back to full operation, Worlund says it's hard not to recognize the Webster students who had to miss out on this opportunity.
"Unfortunately, some recent graduates had their plans canceled and just didn't have time to push their study abroad experience back. I feel bad for them," Worlund said. "However, at the same time, we had some students finally make it abroad this fall who had been trying for over a year, so I´m super excited for them."
Senior Sarah Hill found herself in this exact scenario.
"I was thinking about going to Beijing, China, and continuing what very little study of Mandarin I had done so far, but it didn't work out," Hill said.
Instead, Hill decided to study abroad in Accra, Ghana. Already finished with her major in political science, Hill is able to finish up her minor in media studies while experiencing a different part of the world in the process.
"I am just getting to use this last year of my degree to see the world, meet people and really add just an invaluable experience to culminate what has been an incredible almost four years at Webster University," Hill said.
Looking to the future, the Study Abroad department has high hopes for the program in the spring.
"Despite the pause of study abroad, I believe Webster students are still interested in being global citizens and taking advantage of study abroad opportunities," Moore said.  "Just this past week, we had our spring 2022 applications due, and it was so exciting to see so many applications coming in – it reminds me of old times. I am hopeful that as vaccination rates rise worldwide, students will be able to experience studying abroad!"
Share this post