A little over a year ago, Brandon Detra worked his first shift as an usher at the Opera Theatre of Saint Louis (OTSL). There, he said, he truly heard opera for the first time.
"I just fell in love with it," Detra said. "We can see shows for free as ushers, but I must have watched thousands of dollars worth of opera."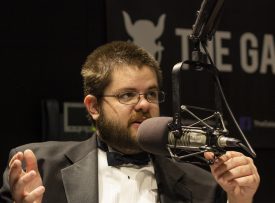 Detra's new show "The Opera Guy", on The Galaxy Radio, serves as an outlet to share his passion for the genre with all the students of Webster and St. Louis. He said he believes opera is an artform not just for the people who can afford $130 tickets, but for everyone to enjoy.
Opera, Detra said, is different from the way it is presented in the media: horned helmets, loud trumpets and rich patrons. He said opera is not too different from musicals, concerts and sports events that audiences enjoy all the time.
"What would happen to basketball in a year if you stopped televising and started charging $150, $200, $1,000 a ticket for the worst seats in the house," Detra said. "It would die, or only rich people would go to it. Does that make basketball a rich person's sport?"
Detra said he plans to turn his show into an educational experience almost like studying Shakespeare plays in high school. He wants to break down the language and story of an opera then walk the listener through the music.
His first show, he said, is "Rigoletto," the opera by Giuseppe Verdi about a court jester cast down by society. Detra said he thinks there are a lot of parallels between the 19th century composition and the new Joker movie.
"I want to show people that these are the original inspirations of modern-day equivalents and where that kind of story comes from," Detra said. "Let me show you its original form in all of its emotions and torn heartstrings, and the big swathes of feelings that come from where [Joker] was inspired from."
Detra said he wants to show his audience that opera is ageless. According to him, contemporary themes and genres can be found in old works, as well as new compositions.
"I think what's interesting is that older operas might feel a bit dated, but that's the case with any artform, right?" Detra said. "The older you go, of course, it is dated, but that doesn't mean it's any less important."
One opera that really piqued his interest was a jazz opera called "Fire Shut Up in My Bones" that Detra saw while ushering at OTSL. The opera which had its world premiere at OSTL is an intense coming of age story set in a small town in Louisiana.
According to Detra, it is operas like "Fire Shut up in My Bones" that try to engage modern audiences, which is why he wanted to get people engaged in the genre through his show. He said he felt that too many people are deadlocked by Youtube and Spotify algorithms.
"I feel that there's a lot of people that don't feel like they have an option, and they decide what they like from what they know, but they don't know the avenues to anything different," Detra said
The show comes at a time of re-branding for The Galaxy Radio, according to General Manager Alyssa Bardol. She said the Galaxy is trying to become a better hub for music on campus.
"We are trying to reinvent ourselves and build a culture around The Galaxy of being the station that you can turn to where you're going to hear an eclectic mix from an eclectic campus," Bardol said. "We're tapping into every corner of that we can, and Brandon is a big part of it."
Bardol said she is excited for Detra's new show. She said she never listened to opera or had any intention of listening to opera, but his enthusiasm and passion for the subject made him a perfect candidate for The Galaxy's next show, Bardol said.
"If you're interested in it, and you're passionate about it; if you bring your passion, we're gonna back you 100% on whatever you do," Bardol said.
Bardol said that she has not seen any classical music shows on the Galaxy in her four years at Webster. However, she said she is still glad that Detra is going for it and has fun while doing it.
Detra said he wants to get other parts of the university involved, as well. He said he wants to invite opera singers from campus and surrounding campuses to talk about their work and possibly perform.
He adds he wants his audience to have the feeling of discovering something for the first time. He said his energy for the project comes from still uncovering the nuances of opera, since he has only been exploring for a year.
"If I can immerse you, you get hooked on it," Detra said. "That's why I always tell people, they say, they say, you know, I don't like hopper and I say listen to my show, you will."
The show will air next week at 6:30 p.m. on Tuesday nights on The Galaxy Radio app or website.
Share this post