The Gorloks are finding their form after a rough start to the season.
By Robby Floyd
Webster Volleyball swept its doubleheader on Oct. 11 without dropping a set against Spalding University and MacMurray College. The Gorloks lost four of their last six matches before sweeping the doubleheader.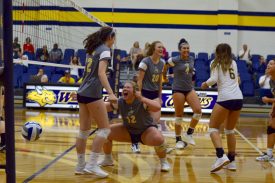 "We had high energy the whole night," head coach Mary Graf said. "We really wanted to come out and show [MacMurray and Spalding] what we were capable of, and we certainly did that."
MacMurray beat the Gorloks for the first time ever earlier this season, breaking a 32-game win streak Webster had over MacMurray. 
"We're going to take care of business this time," Graf said prior to the match.  
Webster went on to outscore MacMurray 75-44 in the three-set sweep.
Between the two matches, Webster beat its opponents 87-57 in kills. 
"We hit really well," Graf said, "I thought our attackers were very smart."
The hitters were set up to succeed due to the play of Gorlok setters Jenna Rodriguez and Emma Larson. The two combined for 57 assists between the matches. 
"It's key that [the setters] are on point," Graf said. 
The setters played well defensively also, according to Graf. 
"A lot of teams like to pick on our setters so that they can get us out of system," Graf said. "Our setters did a great job digging those hits out and staying in system."
Freshman outside hitter Lauren Borik recorded her eighth and ninth consecutive matches with double-digit kills. She recorded 12 kills in each match of the doubleheader 
"She's the real deal," Graf said. "She's aggressive. She's competitive. She has all of the skills it takes to be good at our level."
Borik leads the team in kills so far this season as a freshman with 198. That is 35 more Samantha Kruse who has the second-most kills on the team. Borik averages 2.96 kills-per-set which also leads the team.
"We're super excited, she's just a freshman and we got her for three more years," Graf said.
The team especially improved at the net. The Gorloks recorded nine blocks in the first match and eight more in the second.
"We made sure to stay disciplined up at the net," senior outside hitter Sarah Jacobs said. 
Jacobs said the outside hitters did a good job lining up their jumps to remove any space in their blocks. 
"We made sure to press over and line up at the shoulder," Jacobs said.
Both matches were top four games for Webster in team blocks this year, an area in which the team has struggled at times this season.
"You know [the blocking] has always been there," Graf said, "But some matches the timing is off a little bit. This was a good one. We had a lot of good blocks which frustrated their hitters and took them out of their game plan."
Jacobs also contributed offensively. She recorded 15 kills between the two matches. 
"I was being aggressive," Jacobs said, "I knew I wanted to show them who's boss." 
In her last three matches, Jacobs has posted an attack percentage of .350 and 2.67 kills per set. Prior to those three matches, Jacobs had an attack percentage of .088 and 1.32 kills per set on the season.
Freshman middle hitter Julia Frey saw a lot of time on the court in the doubleheader, playing in five of six sets. Frey set her career-high match total for kills against Spalding, with five while also contributing three digs and a block. 
"I love being out there," Frey said. "It's so much fun to be a part of huge conference games like these."
The team now enters its most important stretch of the season with eight straight conference matches prior to the SLIAC tournament. 
"I think now it seems like we're putting it all together," Frey said, "We have a lot of confidence."
With wins against Spalding and MacMurray, Webster's record is 10-9 overall and 7-3 in conference play. This currently puts them third in the conference standings behind Greenville and Westminster. Webster split the two matches with Westminster. 
Webster lost in its first match with Greenville but will have a chance for redemption when both teams play again on Oct. 24.
Share this post