Webster University named W. Steven Winter its interim chief human resources officer. Winter served in human resource leadership roles for Staples, Ascension Health and BJC Healthcare. Winter will serve in the interim role while Webster continues its search to find a successor to Betsy Schmutz, who retired at the end of 2017. Schmutz was the associate vice president and chief human resources officer as well as the designated Title IX coordinator.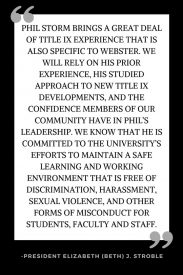 The Title IX coordinator is responsible for compliance with the requirements of the Clery Act. The coordinator's duties include overseeing all Title IX reports of alleged policy violations. Webster appointed Philip Storm as the new Title IX coordinator at the end of last semester. Storm acted as a deputy Title IX coordinator for two years and was the lead investigator for reports of misconduct involving students. His role as Title IX coordinator will shift to ensure the overall compliance with Title IX for the entire Webster community.
Webster also appointed Christy Herzing as the new academic ADA coordinator at the Academic Resource Center, effective Tuesday, Jan. 16. Herzing is replacing Shelley Wolfmeyer, who left the position in Oct. 2017. Herzing graduated from Webster in May 2017 with an MA in Human Resource Development.
Herzing will be available in her office, Loretto Hall room 55, and by email at christyherzing68@webster.edu or disablity@webster.edu effective Jan. 16.
Share this post