Across the United States, cities, companies and schools like Webster University lowered their flags to half-staffed to stand in solidarity with the victims of the deadliest mass shooting in Las Vegas.        
Webster University administration released a statement Tuesday morning about the shooting.      
"Our thoughts and concerns are with those who lost their loved ones in this most recent act of despicable violence," the statement said. "To those injured, we wish speedy recovery."
Junior Jessica Aguilar-Adan calls Las Vegas home. Aguilar-Adan said even though she was not there, the event hit her personally because it was her hometown.  
"Las Vegas is a small-town, believe it or not, so everyone knows everyone," Aguilar-Adan said. "Therefore, this attack felt personal. Those people went to a music festival to laugh, sing and dance without a care in the world. Unfortunately, they were left running for their lives. The shooter took away the fun and replaced it with fear."
Aguilar-Adan said the next question she wanted answered is why.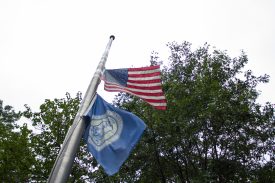 "We are all wondering why, but all I can say is that I do not and probably will never understand the motives of an evil, terrible person," Aguilar-Adan said.  
She said one thing she appreciated during this difficult time was the community came together.  
"It was nice seeing my community come together to donate blood and to help the victims in need," Aguilar-Adan said. "Moments like this is when we need to be even more united."
Webster's statement also included its commitment to the safety of its students and faculty in regards to an active shooter.  
"An active shooter or hostile intruder incident can occur under a variety of circumstances, so no guidelines can cover specific actions to take in every situation," Webster's Public Safety Crisis Response guidelines said.
Webster University and Public Safety adopted the Department of Homeland Security's recommended response to an active shooter – run, hide or fight.  In the case of fight, the Crisis Response guidelines cited this as a last resort and to localize any possible weapons as personal protection such as staplers or fire extinguishers.     
The university encouraged students to visit Public Safety's Crisis Response Guidelines to familiarize themselves with appropriate, safe protocol.   
At this time, 59 people were killed and 527 were injured when gunman Stephen Paddock rained bullets down on a crowd of more than 22,000 concert go-ers. Country music artist Jason Aldean played at the Route 91 Harvest Festival moments before shots rang out from the Mandalay Bay Resort and Casino.
Paddock's brother described him as a poker playing accountant, who did not have an evident affiliation to religion or politics. Paddock moved to Mesquite, Nevada in 2016 after he lived in a retirement community in Melbourne, Florida for three years.  Webster University has an extension campus in Melbourne.      
The Las Vegas shooting is now the deadliest mass shooting in modern-US history.  Prior to Sunday, the 2016 Orlando Pulse Nightclub shooting was the worst on record.  The gunman, Omar Saddiqui Mateen, opened fire in a gay nightclub which left 49 people dead and more than 50 injured.    
Share this post