A fire broke out at a house located at the intersection of Fairview Avenue and Bompart Avenue in Webster Groves, roughly a mile away from the university campus. The Webster Groves Fire Department confirmed the family was not home when the department was notified about the fire around 2:00 pm on Tuesday.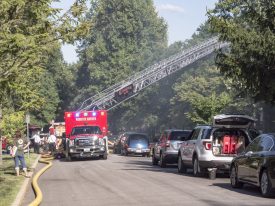 The American Red Cross arrived at the scene a little after 3:00 pm. They said no one had been injured in the fire and no one was trapped in the house, which the Fire Department confirmed. The cause of the fire has not been identified yet.
The majority of Fairview Avenue has been blocked off by the authorities as well as the street's intersection with Bompart Avenue as the fire department completes its work.
The Journal will update the story as more information comes in.
Share this post