Senior volleyball player Katie O'Toole followed her sister's footsteps in volleyball and made her own mark at Webster University.
O'Toole's sister Allie O'Toole played for the Webster volleyball team from 2011-2014. In her four years playing for the team, she became a St. Louis Intercollegiate Athletic Conference (SLIAC) honorable mention and a two-time SLIAC player of the week.
Katie said volleyball has always been something her family had a passion for, and she enjoyed being able to bond with them through their common love for the game.
"Volleyball has always been a part of my family. My sister and my brother played it, my dad played and my parents have always coached me," Katie said. "I started playing when I was in third grade, and it's just always been in the family. I've just always had a passion for it."
Senior volleyball player Katie O'Toole showed her defensive prowess, leading the team to a 19-13 record last season which included 11 shutout wins.
Katie was able to impact the game most effectively with her defensive prowess. Last season, she set a record for most digs per set in a single season with a 5.63 average. She is the team's all-time leader in total digs with 1,929.
Katie said that after years of playing volleyball, she learned maintaining a firm defensive stance is key to a team's success. That drove her to want to be a defensive enforcer for the team.
"Playing volleyball for so many years, defense has always been an attitude: you have to be confident in the back row, and that's what my coaches have always told me," Katie said. "They told me to just have a positive mindset as far as not letting anything drop and basically have the mindset that every ball is my ball. They've always taught me to be aggressive back there."
During Katie's career at Webster, she has moved near the top in several statistical categories. She has single-match highs of nine attacks, four aces and 22 assists. Last season, she placed eighth in all-time single season rankings with a .958 reception percentage.
Katie said she wanted to finish strong in her final season and have peace of mind knowing she left it all out there when her college volleyball career was over.
"It was my senior year, so I went into it with a positive attitude," Katie said. "I feel like this year was different from other years… I wanted to go out on a positive note."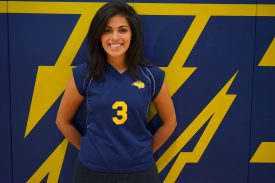 Katie said her teammates and coaches were vital in her development as a player.
"We've always been a versatile group of girls, so throughout practice there was always good competition," Katie said. "The girls would always push you to work hard for your spot, and the coaches were there to make practices hard and get us in game-like situations to really help us develop."
Webster volleyball head coach Merry Graf said Katie's sharp instincts contributed to her strong defensive skill set.
"Katie had a great ability to read the game, and when you're a defensive player that's very important," Graf said. "She was able to watch the attacker and anticipate what was going to happen so she could beat the ball to the spot, which was a huge advantage."
Graf said she enjoyed seeing Katie's growth and maturation over the course of her four years as a student. Graf said it gave her great satisfaction to watch Katie develop into a great player like her sister Allie did.
"[Katie] started out as a freshman on our [junior varsity] squad, and mid-season we decided we had to put her on the varsity squad because she had done such a nice job," Graf said. "She continued to develop and grow as a player and mature as an individual, and that was awesome to see."
Senior Jory Siebenmorgen transferred to Webster from the University of Missouri St. Louis (UMSL) in 2015. She has been teammates with Katie for two years.
Siebenmorgen said Katie has been a great teammate during the time they spent playing together.
"Growing up around St. Louis, I would always hear Katie's name in club teams and everyone talked about how great she was as a player. Everyone seemed to like her," Siebenmorgen said. "Then when I transferred to Webster, she was definitely one of the people that I really took to because her playing ability is so great, and it matched her personality. She's a really fun person to be around."
Now that Katie's career with volleyball team is over, she said she will miss the friendships and bonds that she developed with her teammates over the course of her four years.
"We're all really close, so I consider them like a second family. We bond really well and we would always do team-bonding things together," Katie said. "I'll definitely miss being close with all the girls and just being a part of a competitive volleyball team, because it's been a part of my life forever so I'll definitely miss that."
Share this post