Webster University issued another statement repudiating an executive order from President Donald Trump, this one revoking federal protections for transgender students.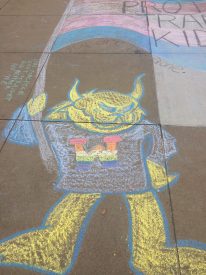 "This week, President Donald Trump's office announced it was rolling back guidelines previously issued under President Barack Obama that extended protections regarding use by members of the LGBTQ+ communities of facilities at educational institutions," a university press release said. "While this may be a troubling change of federal policy, we at Webster will maintain our commitment to working with the LGBTQ+ community and building on our values to becoming more inclusive."
Webster issued a similar statement when the Trump administration announced a travel ban on citizens from seven predominantly Muslim countries entering the United States.
The university's statement points out the availability of gender-neutral restrooms in several buildings on Webster's home campus, including the Interdisciplinary Science Building currently under construction. It also Webster has appointed a student ambassador for inclusion, Kalani Seaver, who will work with the administration on diversity issues.
"But we know that in these difficult times, this is about more than just enforcing policies and guidelines or putting up signs on restrooms," the statement says. "We need to stand together and show support for all members of our community. The recent vandalism of a Jewish cemetery in University City, located just a few miles from our home campus, was a disturbing reminder to us that there are those who express intolerance and hate in violent ways."
Overnight on February 23, students chalked messages of support for transgender people on the Webster quad.
"We will not tolerate bullying on our campus or in our community. At Webster University we stand by our policies, our history, and our culture, in all areas when we consider diversity and inclusion," the Webster statement read. "We also stand steadfast with our community. We know that with your support and a calm determination, we can uphold our core values as the best course as we move forward, together."
The full statement can be read online at http://news.webster.edu/release/2017/lgbtq-policies.html.
The Journal will update this story as it develops.
Share this post