Webster University Cheerleading hopes to attend their first national competition over Spring Break this year. To raise money, the squad brought some spice to the University Center with a chili cook-off.
Webster Cheerleading is headed to the Cheer Ltd. Nationals competition March 17 -19 in Myrtle Beach S.C.
Webster faculty and staff  donated 14 different varieties of chili which were judged by attendees.
Human resources director Cheryl Fritz won the cook-off and the squad is $300 closer to the contest. The Cheer Ltd. Nationals is the first competitive event for the two-year-old team.
Attendees were treated to unique recipes like "Vegetarian Nirvana" chili, three-bean spicy chili, pork chili and Fritz's winning entry – shredded chicken chili.
Sophomore theater studies major TK Mays  has been with Webster Cheerleading since its inception and  served the winning entry to the crowd.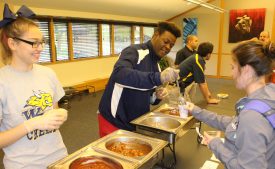 "It went fast. It was the most popular and I'm happy," Mays said.
The cheerleading squad has 18 members this year, including six freshmen. The squad cheers at all men's and women's home basketball games with routine segments during full-timeouts and half-time.
Admissions representative Natalie Herman is an assistant coach on the team.
"Basketball makes the most sense for us right now. Being a competitive team, a lot of practice time is eaten up for competitions, but we always need to make sure we are game-ready," Herman said.
Head coach Justin Barton started cheering during his senior year in high school and started a cheer program in 1997 at Jefferson Community College. After junior college, Barton went to Southeast Missouri State on a partial cheerleading scholarship.
"The biggest challenge is finding dedicated individuals who want to put in the time and effort to be a competitive cheerleading squad," Barton said.
For some, cheerleading may not look like a sport, but Barton disagrees.
"Cheerleading is very much a contact sport." Barton said. "It takes a lot of athleticism and intelligence. For us, we get two minutes, 30 seconds to be absolutely perfect one time when we are competing."
Mays said the foundation for the squad was in place last year, but Barton organized the team and directed the group toward competitive events.
"Last year was geared more toward getting us solid for games since we cheer for basketball. The routines we worked on then were to get us all ready for this," Mays said.
Herman said the squad will be competing against teams similar in skill level and experience at the March competition, but the ultimate goal is to compete at Universal Cheerleading Association (U.C.A) College Cheerleading and Dance Championship.
"We're starting at the Cheer Ltd. level because this is the first year our squad has been competition-ready," Herman said.
Barton said among the several fundraising initiatives being planned, each member on the squad has a personal donation sheet where sponsors can donate on a "per jump" basis; donating fifty cents each time the cheerleader jumps during a game performance or on the sidelines.
"As a coaching staff, we will be calculating the jumps that each cheerleader does per game. By the end of the season, however many jumps a sponsored cheerleader does will equate to whatever the donation was for that cheerleader per jump," Barton said.
The Webster cheerleading Facebook page is the home-base for the majority of information pertaining to the squad. For further information about the program and tryouts, go to – www.websterathletics.com and link to "Cheerleading" under the "Department Info" tab.
Share this post