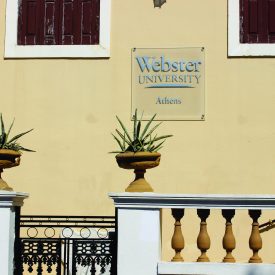 Webster's campus in Athens will soon open its doors to local students.
The campus earned its Greek accreditation last month, enabling the university to offer its degrees and programs at the campus.
The accreditation, handed down by the Greek Ministry of Education, Research and Religious Affairs, will transform the campus — formerly only available to Webster students looking to study abroad, into a full-fledged arm of Webster University, offering degrees and expanded programs available at the home campus.
In a press release, Associate Vice President of International Campuses and Initiatives Peter Maher said the campus' accreditation will significantly increase Webster's global presence.
"Our faculty and staff at the Athens site have worked diligently during the past year to meet the rigorous standards of the Greek authorities," Maher said.
In an interview with The Journal in 2014, Webster Provost Julian Schuster said the university would look into providing degrees if there was interest in the new Greek campus. He said the university was confident in the new campus, despite Greece's financial troubles.
"We would not go into (Greece) if we did not see value in it," Schuster said.
In the same Journal article, Schuster said investing in the Greece campus was similar to investing in stock: buy low, sell high. The university did buy low; Webster inherited the campus and Odyssey program, the study abroad program's then title, at no cost from the University of Indianapolis.
Webster's Greek campus is its seventh international campus, and fourth European location.
The campus is located in the historical Plaka neighborhood. According to a Webster press release, excursions throughout Greece are an important part of the program.
The university currently offers 20 undergraduate and five graduate degree programs at the campus.
Share this post