The 2016 commencement speaker and honorary degree recipient for Webster's 97th ceremony is Jim D. Weddle, managing partner and CEO of St. Louis-based financial firm Edward Jones. The ceremony is his first commencement address.
"I give a speech or two every day, but usually not to a sea of graduating students," Weddle said.
Weddle will address nearly 1,000 graduates and their guests during commencement at the Muny in St. Louis.
Weddle is a former member of the Webster University Board of Trustees and Executive Committee, serving from 2005–14. He currently serves on the Barnes Jewish Hospital and BJC Healthcare boards and is an executive committee member for the United Way of Greater St. Louis.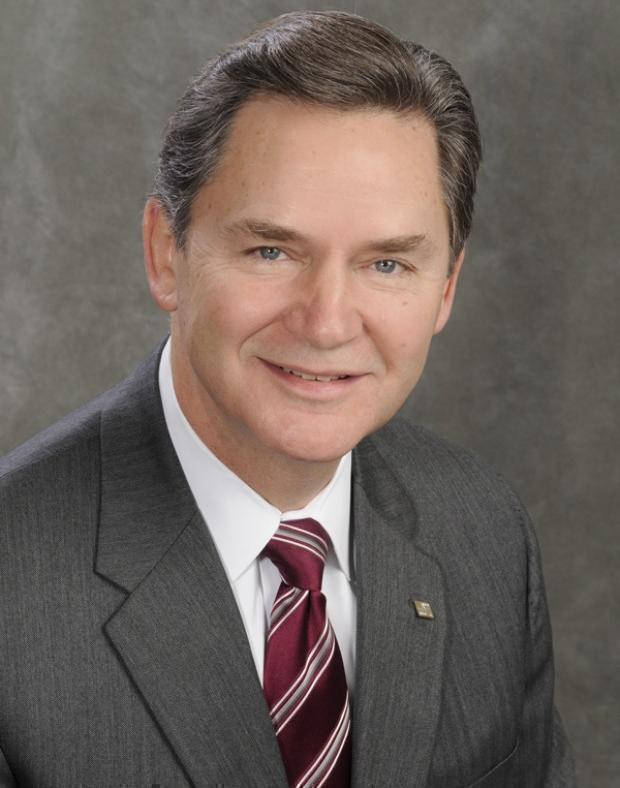 Weddle was selected after a one-month nominating period. Students, faculty, staff and board members were able to submit nominations online.
Interim dean of the Walker Business School Tom Johnson  said colleges are looking for role models who represent the best of their academic disciplines and who send a message to the area at-large.
"What the university attempts to do in terms of acquiring commencement speakers is to locate people who are outstanding in their field, who have contributed a great deal to the community irrespective of what discipline they arose from," Johnson said.
Weddle met the criteria through his long service on many local executive committees and advisory boards including terms on the Board of Commissioners of the St. Louis Science Center and the Securities Industry & Financial Markets Association (SIFMA).
Johnson also said the Walker school will host a second recognition ceremony where Weddle will meet with students.
"That's going to be a marvelous opportunity," Johnson said. "The selection of Jim Weddle provides our graduates and our existing students an opportunity to really see how the community recognizes a person of such achievement."
Johnson said the Walker Business School has over ten thousand students enrolled across 71 campus sites in 50 U.S. cities and nine nations on four continents.
"I don't know of any other school of business that has such a large population, so to get an individual such as Jim Weddle sends a message to all of our students throughout the Webster world," Johnson said.
While not a graduate of Webster, Weddle is the parent of two Webster alumni.
His oldest son Chris graduated from Webster with a degree in film production and began working in town at Fogarty Services, Inc., but struck out on his own as a multimedia producer. His youngest son, Dusty, graduated with a history degree and is currently pursuing post-bachelor certifications in museum management in Chicago.
Oldest of the trio is daughter Lindsay Selner, who leads a planning and development team for BJC. Selner's husband, Travis, works for the firm and applied to Edward Jones without his father-in-law's knowledge.
"He's [Travis] now a very successful advisor for us right here in town," Weddle said.
Weddle grew up in Naperville, Illinois, graduating from high school in 1971. He attended DePauw University where he played baseball and served as president of Delta Kappa Epsilon's undergraduate chapter. Edward Jones hired him in 1976 as a research intern.
Today, the firm has a summer internship program at the St. Louis home office and throughout the branch locations. St. Louis-based internships include work in the finance, operations and technology divisions.
Weddle said the company is looking for strong critical thinking and communication skills.
"And that's both verbal and written," Weddle said. "It is not how well you text – I say that kind of tongue and cheek – but we need people who can write a one-page memo or express themselves clearly in a conversation or presentation."
Additionally, Weddle said a willing attitude and lots of energy will help student advisors who are just starting out.
"We're a very collegial place to work. We drive pretty hard, that's why we need the high-energy levels and that's also why we like our summer internship program – we're going to see who you really are," Weddle said.
After completing his MBA, Weddle went on to open up branches for the firm. Through the 1980s, he expanded his reach in management and, in 2006, became the firm's fifth partner.
Weddle said about 75 percent of the firm's locations are in metro markets today, but a far higher percentage of locations will open up in these areas in the future. Reaching these new areas with a more diverse pool of talent is the firm's goal.
"We're talking a greater representation ethnically as well as gender and we're looking forward to that as a huge opportunity for us. It's a slow process, but we're making progress," Weddle said.
Military-related college graduates are also important to Edward Jones. Weddle said the firm's "FORCES" program, which was designed to train veterans in finance, has hired 868 former military members over the past four years.
Weddle said he serves proudly as an active member on the board of the United Way of Greater St. Louis after serving for three years as president. Last year, his efforts raised 71 million dollars for around 175 different non-profit organizations and is the fifth largest United Way donor nationally.
"We fight way above our weight," Weddle said.
With a 40-year career, Weddle has found that the opportunity to give back and make difference matters.
"Not just to your family or great friends, but to the community itself. In terms of your talent and your time but also your treasure," he said
Weddle said it is not just about writing a check, but offering time and effort as well.
"That has really. . .been far more enjoyable and rewarding than I ever thought it would be, and quite honestly, I wish I had started earlier," Weddle said. "You meet great people. And, you identify unbelievable opportunities to make the region better."
Weddle will also receive an Honorary Doctorate of Business Administration for his leadership and commitment to the financial services industry and the community at large.
Recent Webster alumni to receive the honor are St. Louisans actor Jenifer Lewis (BA Theatre Arts, '79) in 2015 and award-winning Broadway actor Norbert Leo Butz (BA Theatre Arts, '90) in 2013.
Commencement will be held Saturday, May 7 at 9:30 a.m. at the Muny in Forest Park and honors all 2015–16 graduates.
For more information, visit http://www.webster.edu/commencement.
Share this post