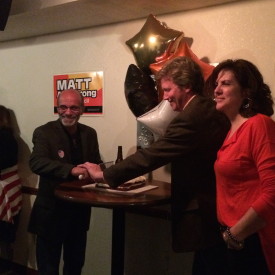 Three new members were elected to the Webster Groves city council as voters chose newcomers over two incumbents in the running.
The new council members are, in order of voter preference, Matt Armstrong, Frank Janoski, and Sebastian "Bud" Bellomo. Voters could choose up to three candidates from the slate of five in the municipal elections on April 5.
All are set to serve four-year terms.
Armstrong is an attorney who owns his own local law firm. Janoski is an attorney, a veteran and a longtime member of the Webster Groves Historical Preservation Committee. Bellomo is an adjunct professor at Webster University and Washington University as well as a retired businessman.
Armstrong and Bellomo ran together under the campaign platform of "OneWebster" with the goal of building an "inclusive, approachable, and responsive" city council, according to their campaign website.
The two incumbents were Kathy Hart, who has served three terms in the city council after first being elected in 2004, and Debi Salberg, who served two terms and was first elected in 2008.
Councilmember Anne Tolan chose not to run again.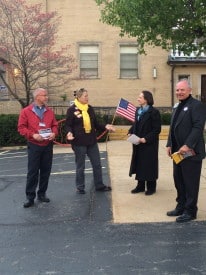 The results came after some confusion at the polls; several polling stations at Webster Groves received incorrect ballots, causing voting to remain 9 p.m. instead of the expected 7 p.m. Results were available with 13 out of 13 precincts reporting around 9:40 p.m.
Janoski shared some campaign materials with Salberg and Hart; all three were endorsed by the Professional Firefighters of St. Louis County. He spent the day talking to voters at polling stations.
Janoski said as a city council member, he would advocate for greater voter outreach.
"I've been a proponent of many town hall meetings," Janoski said. "I think the city council needs to get out a little bit more and meet people in their community. And where I would think we would hold those town hall meetings, one place would be Webster University. I'd like to hear what's important to students and get feedback from them."
Their campaign rested on the idea of repairing what they see as the broken relationships between the Webster Groves city government and the city's businesses and educational institutions.
"Now we're going to start making things happened," Bellomo said, addressing supporters at the restaurant CJ Mugg's after the results were announced. "Now it's no longer words, it's deeds. You watch us. We are going to make some changes."
Share this post