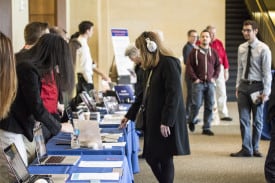 Executives from several media companies throughout the country came to Webster for the university's first Media Academy last week. The two-day event included presentations from the executives and opportunities for students to interact with the presenters.
Webster's School of Communications hosted the university's Media Academy March 23 and 24. Executives from Hearst Television, E.W. Scripps Company, SmithGeiger and Raycom Media presented nine sessions for the academy.
Students were also given a chance to present their work to the visiting executives at a viewing on Thursday.
Together the executives represented over 100 television stations, some of the leading companies in cable and other media, and one of the top strategic media market and consulting firms in the United States, according to Webster's website.
"This is a great opportunity for our communication students, as they will be able to hear from some of the top names in the business their views of the current media landscape and predictions for the future of the industry," said Eric Rothenbuhler, dean of the School of Communications in a Webster press release.
Executives included:
President and Founder of SmithGeiger Seth Geiger
Vice President of News for Heart Television Candy Altman
Vice President of Marketing and Broadcast for Raycom Media Lec Coble
Vice President of News for E.W. Scripps Company Sean McLaughlin
Vice President for Marketing for E.W. Scripps Company Jessica Rappaport
Senior Vice President of Media Strategies for SmithGeiger John Culliton
Corporate Regional News Director for Raycom Media James Finch
Senior Vice President and Senior Consultant for SmithGeiger Jacques Natz
Creative Services Director for Hearst Television's KMBC-TV Paul Tranisi
Share this post