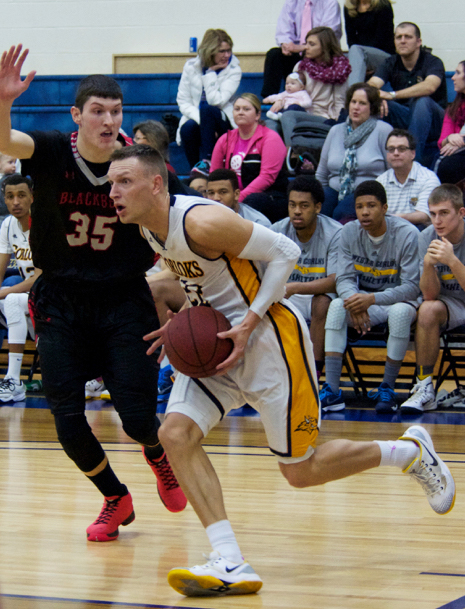 This year, the Webster men's basketball team jumped off to a 6-2 start, and things were looking up for them until they had to endure a key injury during their matchup with Fontbonne on Jan. 17.
Starting guard Ahmad Smith suffered a sprained ankle after making a driving layup, and that play forced him to miss the rest of that game as well as the next five. The team was already missing starting center Kevin Miller, who was also out with an injury. Smith's sprain added to their challenges, but despite these obstacles, the Gorloks responded.
The team is currently 15-8, 11-5 in St. Louis Intercollegiate Athletic Conference play and has two games left in the regular season against Eureka College and Greenville College. Webster had gone 4-1 since Smith's absence, and Head Coach Chris Bunch was impressed with the team's resilience over that stretch.
"I think the team responded very well to (Smith) being out," Bunch said. "A lot of guys saw their playing time increase, like (Joseph) Henry; Johnathan Odjo played a lot more, Danny Zehner played more, and they played well in his absence."
Smith is back in the starting lineup now. Bunch says he expects him to play well in the remaining games of the regular season and into the postseason.
"Obviously we're happy to have (Smith) back," he said. "He's our leading scorer, he's played very well in the two games he's been back and he's given us a big boost."
Share this post