One of the most enduring things Webster University junior thrower Jeff Barlow spoke to his father about was the importance of sports in life. Jeff's father Ron Barlow passed away on Dec. 11, 2009, after suffering a heart attack.
"My dad said to me, 'Never quit. Always keep working hard in everything you do,'" Jeff said.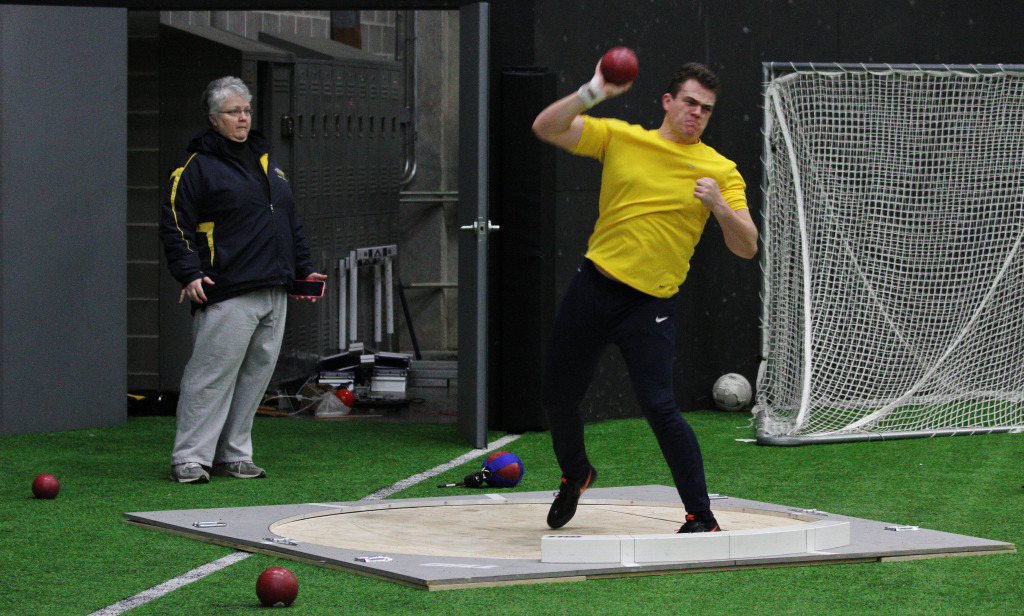 Jeff remembers the day in vivid detail. His father had dropped him off at school that morning.  Later, Jeff was sitting in religion class at Chaminade College Preparatory School. It was 2:35 in the afternoon on a Friday—classes were almost over—when he got a call to go down to the office. There he saw his family already gathered and his grandmother with tears in her eyes.
"It was really unexpected," Jeff said. "He had gotten a checkup like a month before, and he was perfectly healthy—he worked out non-stop. He never missed one of my games. He came to not just mine, but my brothers' and sister's also."
Jeff said his father always helped him and his brother Tommy train. Now, Jeff continues to follow his dad's advice on the track and field team. Jeff throws shot put and, since he joined the team two years ago, has added nearly three meters to his throw. Further, as the lone upperclassman among the throwers, Jeff has stepped into a leadership role on the team. His father suggested that he join the track and field team at Chaminade when he was a sophomore in high school. Jeff noted that without his father's help, he could not have accomplished what he has.
Jeff was struck by the turnout at his father's wake and felt at that moment the responsibility to be like him.
As the oldest of four siblings, Jeff is accustomed to setting the pace. His decision to attend Chaminade led his younger brothers Tommy and Mike to go there as well. Tommy recalled growing up with such an outgoing older brother.
"He just kind of throws himself out there," Tommy  said. "He likes to be involved. He took leadership, and I know all of the coaches (in high school) loved him because he's such a competitor. When he starts something, he gives it 150 percent," Tommy said.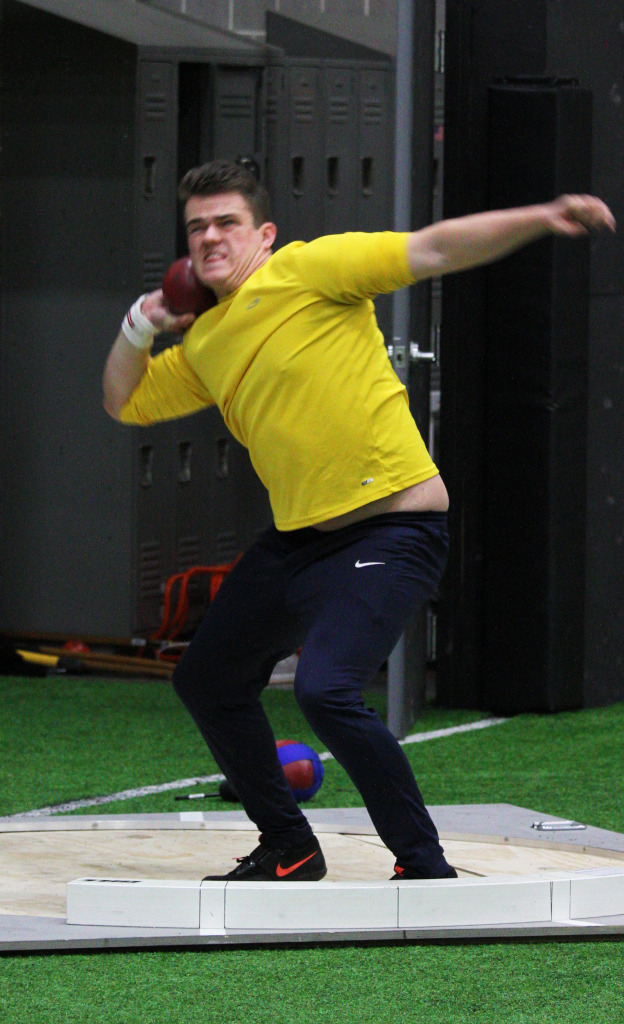 The Importance of Sports
In high school, Jeff played basketball for two years and football for all four seasons, despite suffering a tear in his labrum. After his father passed away, he decided to go out for the track and field team at Chaminade.  His mother, Charlene Barlow, said he always tried to stay as involved as he could in high school, especially in sports.
For the Barlows, sports were a major part of growing up. Charlene said Jeff made most of his friends with the neighborhood kids who played in the streets. Ron coached Jeff's youth basketball team, and Jeff's grandfather coached Tommy's team.
Tommy currently plays forward for the University of Wisconsin men's soccer team. Jeff said Tommy's success keeps him motivated, and Tommy said Jeff has always had an outgoing personality and similarities to their father.
"My dad was all about sports," Tommy said. "Jeff and my dad were super-alike. Jeff even looks a lot like him — it's funny."
Jeff, like his father, also played football in high school. He considered attending Westminster University to play football there, but eventually decided to come to Webster.      At the time, he did not know Webster had a track and field team, but after speaking with the newly hired Head Coach Dan Graber, he could hardly wait to join. Graber described Barlow as one of the most loyal members of the team.
Since then, the number of throwers has increased from three to eight, and 17 freshmen have made their debut on the track team, making Jeff Barlow one of the most experienced athletes. It also makes him among the most serious. He commutes to practice every weekday at 6 a.m. from his home in Chesterfield, nearly 30 minutes away, at the Bud Dome.
"I don't want to be on a team that's not committed," Barlow said. "I'm a competitive guy, and that's very important to me."
Throwing Coach Sydney Laster also noted Barlow's extreme dedication.
"He's dedicated to the team," she said. "He works his ass off — you wish nothing but the best for Jeff, just because Jeff works so hard, is so nice, and is so committed to the team."
Moving Forward
Charlene, like her sons, has an athletic past. She once played field hockey at a Division-III school. Though she described it as "nothing serious," she has always taken the time out to see her kids in action. Charlene said she took multiple trips to watch Jeff compete last year, and she went to his first meet in Jacksonville, Illinois. on Jan. 24. Unfortunately, she did not get to see him throw, because the schedule was incorrect and he threw nearly four hours after he had been originally scheduled.
Charlene said she plans to attend the next meet, the Tiger Invitational, on Feb. 6 in Columbia, Mo.
Charlene said Jeff has always been out going, and she light-heartedly said she would not be surprised to see him become a salesman someday. Jeff, however, could see himself pursuing a job in sports.
"I kind of dream about being a basketball coach sometimes," Barlow said.
Share this post