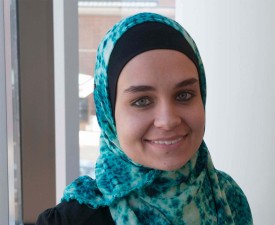 Junior education major Azra Hadzic described her cultural headdress, known as a hijab, as her shield and protection. She said wearing her hijab is what her Lord has requested of her, as a Muslim, to preserve her identity, modesty, morality and most of all, her beauty.
"Words fail to fully express what the hijab means to me," Hadzic said. "It is more than just a piece of fabric — it is a shield of honor that empowers women to express themselves in the manner and to the people they choose, not what the society determines as acceptable."
At a young age, Hadzic said she learned the importance of valuing the Islamic culture and preserving the customs of Islam.
The purpose of the hijab is explained in the Islamic holy book, the Quran: "And say to the believing women that they should lower their gaze and guard their modesty; that they should not display their beauty and ornaments except what (must ordinarily) appear thereof; that they should draw their veils over their bosoms and not display their beauty…" (Quran, surah Noor, 24:31.)
Growing up, Hadzic said her parents instilled morality, respect and integrity in her. She said once she was knowledgeable about her religion, she devoted herself to becoming a devout Muslim. By the summer of 2010, Hadzic embraced her identity as a Muslim and proudly wore the hijab at all times. She admits there were times when she struggled with being a practicing Muslim and committing to the expectations of her religion.
"For a long time, I was concerned with the way people would perceive me, and the opportunities I would be provided wearing the hijab," Hadzic said. "I wondered: who will hire me? How will people look at me? What will my friends think?"
Hadzic said she ultimately found strength to face her fears of society's judgment by putting her trust in God.
"I realized that people will respect me as long as I respect myself, and that what is in my head is more important than what is on my head," she said.
Hadzic prides herself in following the teachings and customs of Islam. There are other Muslim students at Webster who do not practice wearing the hijab, but do practice other Islamic customs.
Lara Hamdan, a freshman journalism and international relations major, recently attended a cultural event hosted by Hadzic in which she was able to learn more about her Islamic roots. Though not in Islamic dress, she spoke in both Arabic and English to Muslim attendees.
Much like Hadzic, Hamdan said she learned about faith and Islamic teachings at an early age from her parents, who are originally from Palestine. She recalls watching, at the age of three, her two Muslim parents doing daily prayers and reading the Quran. By the time she was eight, Hamdan was enrolled in weekend religion school.
Hamdan said she admires her parents for not forcing religion on her, but instead informing her of the benefits that come from having a personal relationship with God. Hamdan said she doesn't believe she needs to wear the hijab, attend every mosque prayer or be heavily involved in the Muslim community in order to be a good Muslim.
"I believe that it's more the personal relationship that you have between you and God that's important, than it is the community relationship that you have," Hamdan said.
Hamdan said she values the importance of maintaining the customs of Islam and dressing in the hijab. She said she is still studying her teachings and becoming more knowledgeable about her religion, so that one day she will be able to wear the garment and know the meaning behind why she is wearing it. Hamdan said once she fully understands all the lessons of the Quran, then she would more than likely be ready to wear the hijab full-time.
"I want to make sure that I completely know my religion before I symbolize myself as a Muslim to the world," Hamdan said.
Share this post