Contributed by Romana Mrzljak
Cynthia McDonald remembers pacing nervously before her audition for the Conservatory of Theatre Arts. She placed a large binder and mannequin on the table. The binder contained a résumé of her work from high school.
"You show them your work and hopefully they like you," McDonald said.
Four years later, McDonald designs costumes for Conservatory performances — most recently for The Country Wife and Smokey Joe's Cafe.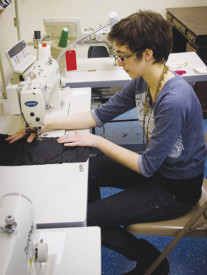 Costume designers' hopes of creating elaborate costumes are not always fulfilled, said senior costume designer Yvonne Anguiano. Anguiano's dreams of luscious fabrics, sequins and trim are often met with the reality of a budget.
"We are always fighting for three things: time, money and labor," Anguiano said.
Costume Shop Manager at Webster Carole Tucker makes sure students understand the importance of a budget. Conservatory students pay $4,000 more in tuition than non-conservatory students. The money goes toward theater productions.
"It's not magical Webster money," Tucker said. "It's their tuition."
The costume design department's biggest problem is not money, Tucker said. The number of costume design students has decreased. The 2013 school year only brought in four new costume design students, Tucker said.
"We are lucky if we get twelve students for all four years," Tucker said.
Tucker said few students continue costume design because they find new passions.
"It's a long journey to make a living in design," Tucker said. "If you are going to be successful, you have to be in love with process."
Costume Design is extremely competitive and success is hard to find, Tucker said. Students who come in with dreams of working for Steven Spielberg are disappointed by reality, she said.
"They all follow the yeses – the path of least resistance," she said. "They discover things about themselves they didn't come in with."
Sophomore costume designer Ruth Tully said technology is also a threat to the future of costume design. While technology can make designing easier, she said it leaves older practices of costume construction in the past.
Computer programs such as Adobe Illustrator and Photoshop have replaced drawing by hand and pattern making. Yet technology and work are just circumstances for costume designers like Tully. She said the passion she has had for costume construction since childhood has turned into a dream.
She hopes her construction skills will take her to an opera theater where she can perfect her craft.
"Construction is my first love," Tully said. "It's an adrenalin rush."
Drawing designs and making clothing patterns are only a few of a costume designer's duties.
"Our job is to set the tone of the show," McDonald said. "How someone dresses, says a lot about who they are."
Costume designers work with directors to create visuals for the show. Designers spend hours analyzing scripts, characters and time periods in which plays are set. McDonald finds design inspiration in music, newspapers and photographs.
McDonald also works with lighting and audio technicians to make sure that colors do not distort under the lights and that microphones fit onto clothing.
"It's all about sacrifice," Tully said. "You have to give up what you want for what the director or technician wants."
Costume designers create clothing for six to seven theater productions each year.
Tully is a costume designer with an emphasis on costume construction. She and her classmates train in all aspects of costume design, but can play different roles.
Designers draw up clothing ideas and decide what colors and fabrics to use. Constructors bring the designer's ideas to life.
"We build from the ground up," Tully said. "We create a second skin for the performers."
Designing and constructing also require different mindsets. One of the most difficult aspects of construction is draping, Tully said. Drapers use mannequins to shape pieces of fabric into clothing.
"(As a draper) you don't just work with your hands," Tully said. "You work in your head a lot."
Share this post