Snow wasn't the only thing falling on the quad Monday, Nov. 25.
Swords, arrows and daggers flew through the air as students "fought to the death."
Live action role-playing (LARP), or larping has become a popular activity on college campuses, and now at Webster University.
"It's the sport that the nerds never had," av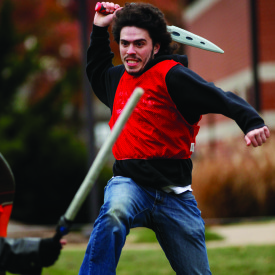 id larper Stephanie Maddox said.
Junior Stephanie Maddox attends LARP events at Crestwood Park and White Cliff Park with friends from a Facebook group called "Everyone who wants to play HvZ." She created the group in March for Humans vs. Zombies.
Maddox was on Team Green during the battle in the quad, along with freshman Christopher Austin; and Jeremy Brown who isn't a Webster student. Despite being 35 degrees outside, it did not keep the participants away.
Maddox's gear included a Nerf sword, warm clothing and a sled to be used as a shield. She said she preferred the cold weather, recalling a miserable summer larping session.
"The heat was ridiculous. We were out there all day, I went inside one of the community centers and just gave up," Maddox said. "In the cold you can always add more layers."
The opposing group, Team Orange, dominated the LARP battles, made up of freshman Dane Davis, sophomore Will Rieger and junior Evan Luberda.
Between the thud of Nerf swords crashing against each other and improvised deaths,  Luberda often shouted "Orange team O.P.," — a gaming term meaning over powered.
Luberda, an interactive digital media major and aspiring video game designer, explained that inspiration for his larping style comes from video games and movies.
"When we yelled Sparta and when there was that jump kill, I felt like a movie," Luberda said.
Each warrior had several weapon choices from: bow and arrow, crossbow, double blade, single blade, sword and shield, and long sword.
Talking about the appeal of larping, Maddox laughed as he picked up his nerf sword.
"Why wouldn't we get a couple people together who have these (Nerf weapons) and beat each other up?" Maddox said.
Student Activities hosted the event. Micheal Henry, a Webster student and program manager for campus activities, said Student Activities provided nerf weapons and shields from Toys "R" Us, Walmart and Target, spending roughly $300 on the event.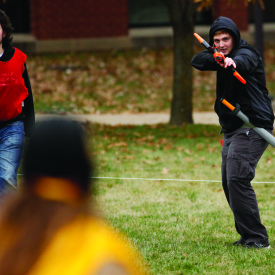 Henry said this was the first larping event he has seen at Webster.
"I just really thought it would be fun to do. I've never larped before, and it looked interesting," Henry said.
As the warriors exchanged nerf sword blows during battle, Henry shouted through a megaphone, "If you die, die dramatically."
Henry said the event would bring the campus together and would promote larping, especially since Webster does not have a larping club.
As Maddox accepted defeat from Team Orange, she said, "It's not something you usually do on a school day, so why not? I think it gives people a chance."
Share this post