UPDATE (Sept. 5, 2013, 1:29 p.m.): A Webster University spokesperson responded to questions submitted on Tuesday by The Journal. The following is the administration's response: "Housing for the provost is provided as a benefit under contractual arrangement, with public information about his total compensation available in required 990 filings and reports. The previous residence occupied by the Provost, on Catalina was discovered to have foundation problems. He moved to the residence on Big Bend to enable examination and undertake feasible repairs of the Catalina property. Consistent with the University's Master Plan, Webster is committed to property maintenance that will preserve the character of our neighborhoods and surrounding area."
———————————-
For a PDF of the most recent Form 990, click here.
To view the University's Master Plan, click here.
———————————-
Nearly one year after Webster University purchased the two-story house at 8376 Big Bend Blvd., the property has a new tenant. Provost, Senior Vice President and Chief Operating Officer Julian Schuster was expected to move into the residence on Sept. 1, 2013, and is the only listed occupant.
Schuster's occupancy permit also lists 8376 Big Bend as a rental property. 8376 Big Bend is one of 20 taxable, residential properties owned by Webster University in the city of Webster Groves. Most of these houses are rental properties. The university purchased 8376 Big Bend in September 2012 for $385,000.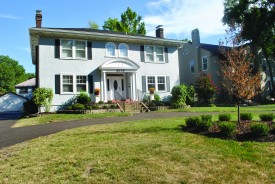 A university spokesperson was contacted for additional information last Friday and again Tuesday, but as of press time The Journal had not received a statement.
Schuster received a $15,000 housing allowance in 2011, according to the university's tax filings. Data for 2012 and 2013 has yet to be released.
Prior to moving to 8376 Big Bend, Schuster lived at a university residence supplied to him by Webster, according to university tax filings.
In February 2013, Webster spokeswoman Susan Kerth gave no indication the property would be rented by Schuster.
"It is our (the university's) intent to use this property as a residential rental unit that will be leased to new or existing Webster Groves residents," said Kerth in February.
Several renovations have taken place at 8376 Big Bend since February, including the installation of wheelchair ramp. The property's hardwood flooring was also restored and its bathroom and kitchen were remodeled. Renovations continued on the exterior of the house in the spring.
The 8376 Big Bend property was built in 1925 and has 3188 square feet of living space. The building has a total of 10 rooms.
Schuster Occupancy Permit by Dan Bauman
Share this post