by Macy Salama and Sierra Hancock 
Norbert Leo Butz is a 1990 Webster University graduate from the Conservatory of Theatre Arts. Since he graduated, Butz has won the 2005 Tony Award for Best Performance by a Leading Actor in a Musical for his performance in "Dirty Rotten Scoundrels." He also won the 2011 Tony Award for Best Performance by a Leading Actor in a Musical for his performance in "Catch Me If You Can." Butz is currently working on a new musical called "Big Fish."
Butz will give the commencement address at Webster's 2013 commencement ceremony.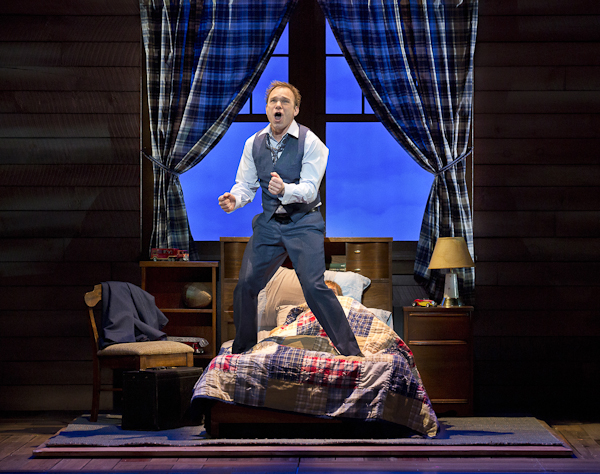 "It was nice hearing that (Webster) is getting a break from politicians," said AJ Wallace, senior audio production major. "He (Butz) is successful and he has done a few cool things in his life. He's started a foundation and won awards. It was nice to hear that we were having a Webster alumnus. I thought it was pretty cool."
Besides performing on Broadway, Butz was one of the producers of a benefit album by The Angel Band Project. The organization was started in dedication to his sister, Teresa Butz, who was sexually assaulted and murdered in 2009. Its mission is to "use music to promote healing, raise awareness and create positive social change for survivors of sexual violence," according to angelbandproject.org.
"I guarantee you he would give up his Tonys. We would give everything up to have our sister back," Tim Butz, Norbert's brother, said. "But that can't happen, so we're just trying to make a really good thing out of something that was a very tragic event in all of our lives."
Tim is a fourth and fifth grade teacher in the Maplewood-Richmond Heights School District. Tim said he knew his brother had talent his whole life. He remembered how Norbert would constantly practice the piano and sang when they were kids.
"He would sing the same songs over and over and over again until he got them right, and I didn't realize he was perfecting his craft," Tim Butz said. "To us, he was just being annoying. But to him, that was what was inside of him and he was trying to get it out."
Dorothy Englis, chair of the theatre and dance department, said Butz is an example of Conservatory excellence and an electric performer who shares himself with the audience. Englis said having Butz speak at graduation will be beneficial to all Webster students.
"The arts and theatre are such a huge part of Webster's reputation, so I think it's appropriate that we have art speakers," Englis said. "The entertainment business pervades almost every aspect of our lives."
Butz made his debut on Broadway six years after he graduated. He starred in the musical "Rent" as the character Roger Davis. Butz also performed in the musicals "Dead Accounts," "Enron," "Speed the Plow" and "Thou Shall Not." He was the original Fiyero in "Wicked."
Dakota Mackey-McGee, senior musical theatre major, said she is excited to hear Butz speak at Webster's 2013 commencement ceremony. Mackey-McGee said she is interested to know the struggles Norbert Leo Butz went through.
"I would love to hear what his transition was like from Webster to the business that we're in," Mackey-McGee said. "Maybe what he would've done differently or words of advice. … I'm a cheesy one for that."
Aside from speaking at Webster's graduation, Norbert Leo Butz is performing in two benefit concerts for The Angel Band Project on May 8-9 at the Sheldon Concert Hall and 560 Music Center, respectively. Tim Butz said he knows his brother isn't doing the concerts for recognition, but purely for their sister.
Webster will recognize Norbert Leo Butz with an honorary doctorate of Human Letters at the ceremony. Commencement ceremonies will begin at 10 a.m. on Saturday, May 11.
Share this post