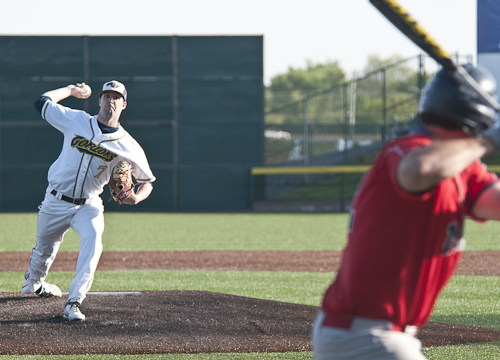 Webster University assistant baseball coach David Mueller is a step closer to his chance to play Major League Baseball.
Mueller played three years of baseball at Webster and recorded more strikeouts (238) and wins (22) than any other pitcher in Gorlok history. As the ace of the pitching staff in 2012, Mueller helped Webster to a fifth-place finish in the NCAA Division III College World Series — the best season in Webster history. Before Webster, Mueller played his freshman year at Florida Institute of Technology, an NCAA Division II school.
Webster baseball coach Bill Kurich said  Mueller has been a dominant pitcher all his life. And if Mueller continues that streak,  Kurich believes he has a chance at the pros.
The next test for Mueller is the Pecos League, an independent baseball league located in New Mexico. During the first week of May, he will report to Roswell, N.M., for spring training baseball with the Roswell Invaders.
Forty players were invited to the Invaders camp, and 25 will make the final roster. Mueller said  the competition is talented because many of the players who will attend weren't selected in the MLB draft. Now, they are trying the same route as Mueller to get there.
Mueller already has a step above the other players because he signed a one-year contract with the Invaders.
"(The contract) takes a little bit of pressure off of spring training," Mueller said. "But you're on a cutting board like everybody else and you have to be good each time you go out there."
The commissioner of the Pecos League, Andrew Dunn, said the usual one-year contracts across the league pay between $400 and $600 per month. The players also receive free housing through host families. Mueller said his experience with host families is a job in itself.
"You're kind of just like their kid for the summer," Mueller said. "You do chores, mow the lawn, help them out cooking, and then you always have a hot meal waiting for you when you get home."
The host families also receive benefits from the Pecos League teams. They are given season tickets for housing one or more players for the 10 weeks the season lasts.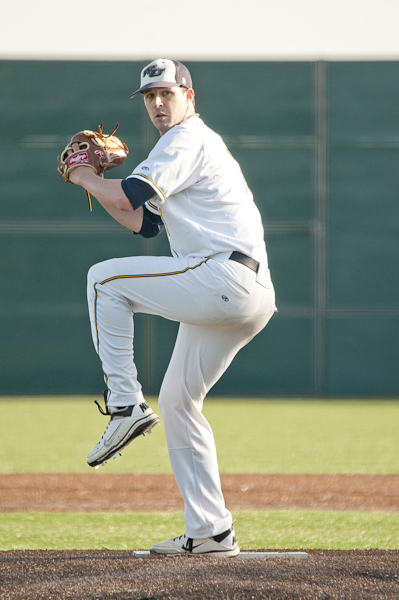 Mueller said he is not there for the money. He only needs one reason to play.
"Obviously the goal is to play in the major leagues," Mueller said. "You have to take it one step at a time through affiliated ball and work your way up through there."
Dunn said if players are in the Pecos League for multiple years, then there is a problem. He designed Pecos League for players to get noticed and then move to the next step.
"The goal of the league is to (get players promoted)," Dunn said. "With the reduction of number of draft picks (in the MLB draft), a lot of quality guys don't get drafted and Pecos League gives them an opportunity."
Mueller said he knows there are limited spots in professional baseball organizations, but he still sees a chance.
"As long as you keep getting people out, people aren't going to tell you that you can't play anymore," Mueller said. "Coach Kurich told me it doesn't matter where you start, as long as you dominate at each level."
The Pecos League began in 2011, and has promoted five players to major league organizations. More than 100 players have been moved to other leagues, such as the Frontier League with the Gateway Grizzlies.
The Pecos League has eight teams in the Southwest United States. The farthest trip Roswell will take is 306 miles, to Trinidad, Colo.
From player to coach
As Mueller progressed as a pitcher, practice was the key to becoming a better player. Now, he has found a new way to advance his talent through coaching.
A year ago, Mueller took the mound for the first game of almost every weekend series as a Gorlok. Mueller now does his work on the bench for Webster.
After the 2012 season was over, Muller texted Kurich saying he was interested if there was an opening for an assistant coach on the Webster baseball team. Kurich said he didn't have a doubt that Mueller would make a great fit.
"It's really interesting to see the other side of baseball," Mueller said. "It's now put the whole picture together for me, and it's been cool for me to see."
Kurich also got his start in coaching just after he finished playing college baseball. He was selected as an All-Central Region team member while at Wartburg College (Iowa). Kurich then took an assistant coaching position at Concordia University (Ill.).
"In your first two years (as a coach), you learn more about the game than the first 21 years of your life," Kurich said. "Having the chance to see how the game works from the ground up is something that can help you as a player understand the basics of the game."
An oddity for Mueller is a majority of the players he now coaches were his teammates a year ago. Kurich said it is tough to draw the line and separate a friendship from an authoritative relationship.
"It's delicate," Mueller said. "You have to draw a line and decide. I'm learning more throughout the year, but it is difficult."
Senior pitcher Cody Hafeli believes their new relationship has benefited everyone, and is making the team better.
"He is very fresh in coming from a player side," Hafeli said. "To me, he is still a teammate in my eyes, and we get along as well as we did last year."
Mueller said being on the coaching side might be tougher than being a player. When he subjects his pitching staff to conditioning, Mueller said he now feels sympathy toward the coaches when they had to force him to give the effort. Mueller now understands it was all for the players' benefit.
Hafeli said Mueller hasn't avoided the opportunity to "get on a guy's back."
"He can see when guys aren't working hard," Hafeli said. "He played the game hard as a player last year, and he knows what it's like to come mentally prepared every day, and he pushes us to do that."
The Gorloks are benefiting from Mueller's help. They lead the St. Louis Intercollegiate Athletic Conference in innings pitched and ERA this season.
Share this post