Story by Megan Washausen 
Twenty-two years ago, photojournalist Elizabeth L. Gilbert left the United States for Africa. Within 6 months — at 23 years old — Gilbert was working as a news photographer covering conflict in Africa. By 28 she had covered five civil wars.
Gilbert said she wanted to do something "sweet and special with the photography" she had accumulated over the years.
"I said what I need to do is take the pictures back and give them to the villages and I'm doing this by renting a cinema screen and I'm going to go on this one last safari," Gilbert said. "I'm going to give three evening slideshows at night, under the stars, for these people, and most of the audiences had not seen anything like cinema projection on the silver screen, and there were some who had never even seen a photograph of themselves."                                                                     [pullquote]What you're doing is you're creating a record for posterity, Gilbert said. [/pullquote]
The photos inspired the documentary, "The Safe Safari," which will be shown on Sunday, April 7 at 7 p.m. in the Winifred Moore Auditorium, free of admission and open to the public. It is the first time the documentary will premiere for a U.S. audience and Gilbert is determined to "fill the house."
"It's a surprising film, it's a genre-defined, fast-moving road movie," Gilbert said. "The film is like a mirror and it kind of reflects everything that you've seen in the show back to you in this very faceted, interesting way. It's not even about me anymore. It's about the perspectives of the Africans that play a role in all of this and their opinions and frustrations."
Gilbert grew tired of the news business by 30 and had planned to leave Africa to explore opportunities on other continents such as Asia. However, she hasn't made any plans to leave Africa just yet.  Gilbert said she has no interest in living or working anywhere else.
Gilbert had taken photographs of milestone moments in the lives of the Kenyan tribes in Africa, including massive warrior graduation ceremonies, weddings and circumcisions. Unlike Americans, Kenyans had little to no means of preserving these events for themselves.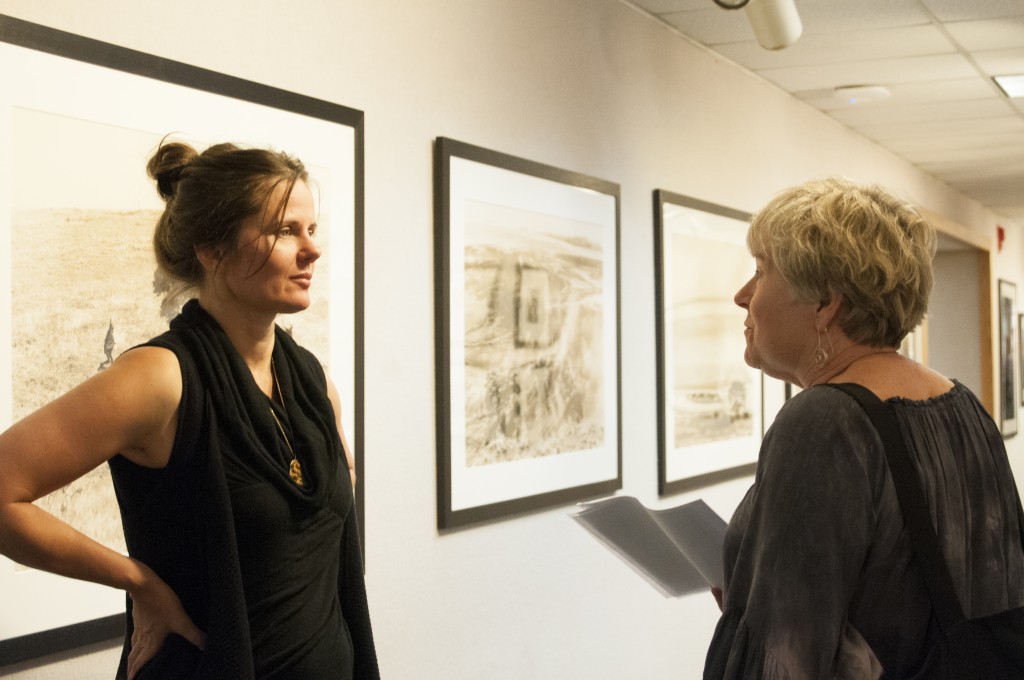 Gilbert's photography show "Histories in Africa, 20 Years of Photography" opened at The May Gallery Friday, April 5. The May Gallery is the show's second venue and will be its last until Gilbert finds more time to network.
Before The May Gallery opening on Friday, Gilbert discussed the photos.
"I saved $3,000. I bought the camera for $1,800 and that left me $1,200 for six months in Africa. I figured I could get through Africa on about $200 a month and I went with that money in my pocket," Gilbert said.
Gilbert recalled the competition to be published as relentless when she graduated from Parson School of Design in New York in 1990.
"I think at the time there were 10,000 photographers in New York City and probably half news photographers," Gilbert said. "(In Africa there were) three American photographers to cover the entire region for every major news publication in the world, so right away I put myself in the position where there was an opportunity."
Some of the photographs captured images that can no longer be shot today as they no longer exist in Africa's changing society.
"What you're doing is you're creating a record for posterity," Gilbert said.  "There's one picture of the Maasai, it's called Leaping Warriors and it's a couple of young men dancing, jumping up and there's a crowd watching them of young men and they are in awe of their beauty of the height at which they are able to leap…it was the last time, I later discovered, that that photograph was taken at a ceremony that isn't performed in the area anymore, so I feel like it was one of the instances where I captured something just in the knick of time before it disappeared."
Bill Barrett, Webster's electronic and photographic media director, was one of Gilbert's teachers at Parsons and couldn't be more proud of how successful her career has been.
"It is just such a pleasure to see someone who you had the opportunity to work with at some point in their life have such an amazing career," Barrett said. "You can't teach someone ideas, all you can do is open a door and Liz has stepped through more doors than you can imagine."
Share this post