By second grade, Ashley Elzinga had already found her calling. While most kids would bring pets or medals to show-and-tell, Elzinga had something different in mind. With support from her uncle, Elzinga brought a voice recorder and one-liners for commercials.
"I ended up doing my first voiceover (in class)," Elzinga said. "After that, I was like, 'That was so much fun. I got to do a voice commercial.' I did it when I was young, so I think I was predestined to do (radio)."
Now, Elzinga is on air full time at the radio station 105.7 The Point as the personality, Lux. Elzinga graduated from Webster University with a degree in media communications in 2008, and is the only female host currently at the station.
Video by Alex Wilking
"It's hard, but I like having that spot," Elzinga said. "I get a lot of press for being the token female, but then again I get a lot of the criticism because I'm so noticeably out there."
Matthew Chambers, marketing director at The Point, said Elzinga's position as the only female radio host has helped her excel in her field, as opposed to overcoming discrimination.
As a Webster graduate, Elzinga has done voiceovers during Webster commercials that run on air at The Point.  She also does live endorsements for the university.
"It started because one of our sales representatives here wanted to sell Webster on live reads," Elzinga said. "A year later, I'm doing all of the voiceovers nationwide for them.  I even did some of the phone message systems.  I turn around everywhere, and there's my voice. To have Webster believe in me like that (is) amazing."
Lux was on the air weekdays from 10 a.m. to 2 p.m.  The noon to 1 p.m. segment was called "Lunch Hour with Lux," where she played only song requests from fans.  Her fans requested songs through Facebook or text messages. Elzinga recently switched time slots. She is now on air from 2-6p.m.
"You hear a lot of talk in the morning, so in the middays I like to keep it music-oriented," Elzinga said before the switch. "In that noon-to-one hour, it's very rare for anybody to have an hour in radio where it's all requests.  I feel like that's a very special time for me and my listeners to connect."
Elzinga has been in radio for five years, four of those at The Point.  She began working at the station before she graduated.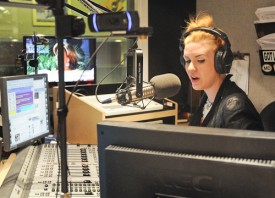 "This job was meant for me," Elzinga said. "I don't have math skills (and) could not multiply my way out of a plastic bag.  But if you wanted me to go in front of a room and speak for 20 minutes and I just had to fill the room with talk, I'd have no problem doing it."
Mark Klose, talk show host at FM NewsTalk 97.1, has watched Elzinga make her way up to her dream job.
"It was interesting to watch her work part time and work her way into a full-time gig," Klose said. "It's been nice to watch her mature as time goes on."
Elzinga found her start in radio through a work-study program. With just one application left for a small radio station, she wrote, "Will work for peanuts," with a smiley face on the application.  The station hired her to be on air for weekends soon after.
"I had never done it before (and) had no experience," Elzinga said. "It's all complete fluke events. Radio chose me, now I choose it."
Elzinga hopes to continue her career in radio at The Point in the future.
"I want to stay here at The Point for as long as possible," Elzinga said. "I've been listening since the early '90s.  I'm at my dream station. I would like to be a part of making St. Louis better and grow in the medium."
Share this post