The Webster University women's basketball team went 1-1 this week with a win on the road at MacMurray College (Ill.) and a loss at home versus Eureka College (Ill.). Before falling victim to the Red Devils, the Gorloks carried a five-game win streak.
Senior guard Maggie Zehner continues to lead the Gorloks in scoring. She also etched her name into the Webster University record books with 1:10 remaining in the game against Eureka College. Zehner made a 3-point shot — becoming the sixth Gorlok to score more 1,000 points in her career.
This season, the Gorloks are 4-7 at Grant Gymnasium and 6-2 on the road. They have struggled with injuries and have lost players at times due to academic ineligibility. Zehner said the adversity they had to overcome could be a reason they found success on the road.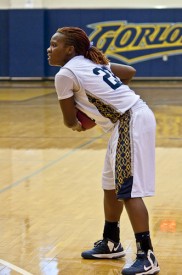 "I'm not going to say we play differently, but I think we've proved that we do pretty well when everything is going against us — which says a lot about our team's heart and ability, and just the grit we have," Zehner said. "We've had a lot of unfortunate injuries and things that have happened. We've gone down to seven people, and that just made us play even better and come together even stronger. This is the closest I've ever been to a team at Webster, so it just says a lot about us. Being on the road, it's just one more thing against us, so we kind of thrive off of it."
Coach Jordan Olufson said starting home games better could make a difference to the team, but regardless of playing at home or on the road, the game is the same.
"When you get on the road, we have the mentality (that) you're down 10 (points) already to start the game," Olufson said. "We have to refocus. Just like on the road, we have to refocus when we're at home.
"We have to start games better. … It's something that we'll work on, and hopefully, Wednesday (Jan. 30), it'll be cleaned up."
When the Gorloks defeated MacMurray 63-51 on Wednesday, Jan. 23 , Zehner played all 40 minutes and led the Gorloks in scoring with 20 points. Senior guard Gwen Williams scored 13 points and had 4 steals. Senior guard Airyn Miller returned to action after missing three games due to a teacher not posting her grade from the fall semester. Miller chipped in 9 points and 4 rebounds in her first game since Jan. 10.
After MacMurray, the Gorloks played the first of five consecutive games at home on Saturday, Jan. 26, losing to Eureka 69-64. With the loss, the Gorloks drop to 7-3 in St. Louis Intercollegiate Athletic Conference play and 10-9 overall. Zehner scored 21 points and played all 40 minutes in the loss. Williams scored 14 points and had 6 rebounds. Sophomore forward/center Cassie Endicott, who had been sidelined with an ankle injury since November, returned to the team, scoring 2 points and 3 rebounds in 11 minutes.
With first place Westminster College (Mo.) (10-9, 9-1 SLIAC) coming to Grant Gymnasium on Wednesday, Jan. 30, the Gorloks have little room for error.
"Our goal is to win out," Zehner said. "We still have an opportunity to get in first. We're going to hope that someone else beats Westmin to do that, but our goal is to go out and play the way we've been playing, and we should win some more games."
The Gorloks defeated Westminster Jan. 15 — the only blemish on the Blue Jays' SLIAC schedule this season. With a win on Jan. 30, the Gorloks would find themselves one game behind Westminster for the best conference record. Olufson said despite the win earlier this month, teams change.
"You play different — you learn from it," Olufson said. "They'll learn from what they did wrong, we'll learn from what we did wrong; it's different. It's a different atmosphere. The game could be called differently, it doesn't matter what you did two weeks ago. We always tell our kids, 'It's not about yesterday, it's about today.' All we can do is go out there and play the best we can, and be ready for them."
Share this post