The Webster University men's and women's basketball teams are missing key players from the lineup card.
Men's basketball player Aaron Griffin, sophomore center, is academically ineligible and will miss the remainder of the season.
"I felt like I let my whole team down and the whole school down," Griffin said. "As a student athlete, the student comes first."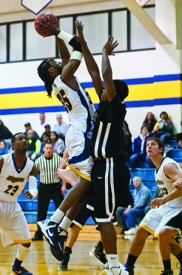 Women's basketball player Jamie Buehrig, sophomore forward/center, is also academically ineligible, but she hopes to return to the Gorloks soon.
Women's basketball player Airyn Miller, senior guard, has missed the last three games, but also hopes to rejoin the team soon. Miller has averaged 4.1 points, 3.1 rebounds and 1.4 assists per game this season. Miller said one of her teachers during the fall 2012 semester has not posted her grade for the class.
"Pretty much all I'm doing is waiting for my teacher to put in a grade that I've been waiting on since the end of fall," Miller said. "There's not much that I myself can do. So, it's just a waiting game pretty much. There's not a lot to it, other than the gray details."
Griffin thought that he was doing everything he needed to do academically to remain on the team, but that wasn't the case. He played in his last game of the season for the Gorloks on Dec. 15 at Rust College (Miss.).
Buehrig also was surprised when she got word of not being able to play because of her grades. Buehrig said she had finished her paper for the class that caused her ineligibility, and sent it to her teacher via Connections. But Buehrig said her teacher never received the paper, which caused her grade to suffer.
Despite not being able to play since Dec. 31 and missing six games, Buehrig feels the team is doing what it needs to do to win games. The Gorloks are 5-1 in their last six games and are winners of four straight.
"The girls have stepped up, and they've showed more heart the past couple of games," Buehrig said. "This proves that they are determined and they want to win, and now we are second in the conference."
According to Webster's 2012-2013 Student Handbook, student athletes "must maintain a minimum 2.0 grade point average to participate in intercollegiate athletics at Webster University. All students who fall under a 2.0 GPA or are on academic probation are ineligible for participation."
Tom Hart, Webster director of athletics, said the NCAA mandates each institution to have some sort of academic standard in place. Each institution can choose to have a higher academic standard than the one the NCAA mandates.
Hart said Webster's academic eligibility rate hovers around 98 percent. He added that typically Webster has more students ineligible in the spring semester than in the fall semester.
Hart said freshmen are at more of a disadvantage than upperclassmen because freshmen have fewer credits to work with, so it's easier for them to fall below the 2.0 GPA requirement. He said when evaluating eligibility, Webster looks at three objective pieces of criteria:
—How many credits the student athlete has passed in the past year.
—GPA.
—If the athlete is enrolled full time.
Subjective information comes into play if the student athlete decides to appeal his or her ineligibility. Hart said the appeals process consists of the athlete writing a letter to a committee, which is "comprised of the dean of students, the director of athletics and the NCAA faculty representative," according to Webster's Student Handbook.
"The appeal would have to be approved, and typically the appeal is approved with stipulations on it that a student could work on to help improve their academic standing," Hart said.
Griffin decided against appealing his ineligibility after talking with his teachers. Griffin is a transfer student, so Webster went by the GPA that Griffin earned during his first semester at Webster.
The men's team did not fare well early on without Griffin's help. In his absence, the Gorloks started 0-4 but are currently on a three-game win streak. Griffin had his best game for Webster on the road against his former school, Rust. It was the last game he got to play for the Gorloks this season.
In that game, Griffin had 21 rebounds. The last time a Webster player had that many rebounds in a game was in the 1985-1986 season, when Steve Pierson set the school record with 26, according to Niel DeVasto, Webster sports information director. Griffin also led the St. Louis Intercollegiate Athletic Conference in total rebounds before he was deemed ineligible.
Men's basketball coach Chris Bunch said his team played the four best squads in the SLIAC the first four games of Griffin's ineligibility, and all four were close. But Bunch said it has been hard without the 6-foot-6-inch Griffin.
"It's been tough, obviously. He's our best rebounder," Bunch said. "It was a big loss to lose him, but they've responded well. I think we're right there with the best teams in the league. It just makes it a little harder. When you're small, you've got to play a little better, but I like how the guys are bouncing back."
Bunch said the team has slightly adjusted the way it has played in Griffin's absence by playing faster and having more guards in the game at one time.
Much like the men's team, the women's team has had to mix things up without Buehrig, Miller and other players who are out with injuries. Coach Jordan Olufson said the Gorloks don't press as much as they normally do to try to conserve energy, but the Gorloks' senior leadership has been a big testament to their success.
Olufson said in order for the team to do well the rest of the way, it will have to play good defense. Buehrig showed her value to the team defensively in SLIAC matchups between Blackburn College (Ill.) and Greenville College (Ill.).
Against the Blackburn Beavers, Buehrig had 6 offensive rebounds and nine defensive rebounds, and scored her season high in points with 20. In the game against Greenville, she was in double digits in total rebounds again, with 12. Buehrig said she appealed her academic ineligibility and recently got in touch with the teacher who didn't receive her paper. Buehrig said she will not be playing in the Jan. 23 game at MacMurray College (Ill.) and does not have a timetable for her return to the team.
Griffin said he looks at his ineligibility as a learning experience.
"When I come into next fall, I know exactly what to do," Griffin said. "I love basketball so much, and I should have put basketball aside and (tried) to do my work more. Everything happens for a reason, and coming into next year I'm going to do everything in my power to not let this happen again."
—Josh Sellmeyer contributed to this report.
Share this post