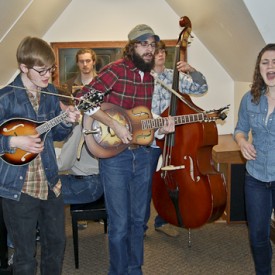 "Thin as a dime" is an old saying that means having a very small amount of money.
"We were all in a bad place financially at the same time, so it's just a way of saying how broke we are," Hannah Satterwhite, vocalist for The Thin Dimes said.
The Thin Dimes, a six-person blues/folk band, formed 10 months ago. The band members are Nick Pence, Nathan Pence, Paul Rhodes, Gabe Maichel, Kevin Cheli and Satterwhite.
Satterwhite, Nick Pence, Cheli and Maichel attend Webster University. Rhodes is a sophomore at St. Louis University and Nathan Pence is a sophomore at Bishop DuBourg High School.
Nick Pence, who sings and plays guitar and banjo, and his brother Nathan Pence, who plays bass, grew up with music being a part of their lives. Nick discovered the guitar in eighth grade and his younger brother followed suit.
"I had to search for my interest in music, but Nathan grew up with the music around him," Nick Pence said.
Nick Pence and guitarist Rhodes met a few years ago while playing an open mic night at Highway 61 Roadhouse in Webster Groves. They connected through their interest in playing blues music and began playing at small venues together.
"Performing was a lot of fun and it just felt right, since Nick and I were very much on the same page musically," Rhodes said. "We kept going and eventually found all of the right people to make a real band after going through an ever-changing lineup for almost two years."
Vocalist Satterwhite met Nick Pence during her freshman year at Webster, and they began to play and record songs together. The Thin Dimes' drummer and washboard player, Cheli, studies jazz at Webster. Maichel, another Webster student, was the last member to join the group on the piano/keyboard.
Combined, the band said they find inspiration in various genres of music, with emphases in blues, jazz and folk music. The band said each member contributes something different and they do not subscribe to one specific genre.
"Nick and Paul grew up listening to a lot of blues, so they bring the blues side," Satterwhite said. "I grew up on folk music so I added that influence. Nathan, Gabe and Kevin all play jazz at Webster so they have that influence and transfer it to the folk and blues. We have layered people in and we're figuring out our sound together."
When the band started doing shows together last January, they played a mixture of cover songs as well as their own material. Nick Pence writes the majority of lyrics for their songs.
"I never sit down with the intention of writing a song," Nick Pence said. "You have to make a well that you're going to draw from at all times. So I try to feed that well every night and make sure that it's always fertile and relevant."
Nick Pence said when he writes songs, he doesn't aim to achieve a certain sound.
"If you can't put your finger on it, then that's exactly what I'm going for," he said. "It's a compliment if you can't put your finger on it."
At gigs, the band still includes a few cover songs on the set list. Satterwhite said that's because they enjoy a variety of music. She said they have been listening to a lot of blues lately, and the history of that music really influences them. They've covered everything from Mumford & Sons to The Allman Brothers.
This summer, The Thin Dimes won "best band" from the St. Louis region at the King of the Roots Battle of the Bands. The contest spotlights local artists from four regions in Missouri. The Thin Dimes competed against The Mojo Roots, Brick Fields and the The Old No. 5's at The Blue Note in Columbia, Mo. in a final showdown for the regional bands. The Mojo Roots are from Columbia, Mo., The Old No. 5's from Kansas City, Mo., and Brick Fields from Eureka Springs, Ark.
The prize for the title of best band was the chance to play a set on the main stage at the Columbia music festival, Roots N Blues N BBQ Festival. Satterwhite, a Columbia native, said this was a great honor for her because she grew up going to the festival. The band played on the same stage as some of their musical idols. Rhodes said they were able to meet Pokey LaFarge and the South City Three, a band they all admire.
"Playing [Roots N Blues N BBQ] was an amazing and life-changing experience," Rhodes said. "I don't think any of us expected to win at any stage of the competition. All of our shows in the competition had so much energy, and I always felt like the desire to win was second to the desire to just play in front of people and do what we love. Playing the festival was like being shot out of a cannon into another level of professionalism."
The Thin Dimes have played venues all over St. Louis and Columbia. They all agree The Map Room in St. Louis carries the most sentiment. The first members to play The Map Room were Nick Pence and Rhodes when they played an acoustic show at the coffeehouse. After their first show, they were asked to return. Eventually, Rhodes and Nick Pence developed a monthly show. The Map Room, however, recently closed.
"Nick and I were wanting to get away from the same old electric blues music we had been doing our whole musical lives," Rhodes said. "The Map Room gave us a place where we could try out our new interest in folk music and test the waters of making something new."
The Thin Dimes are set to play The Schlafly Tap Room on December 21.
Share this post