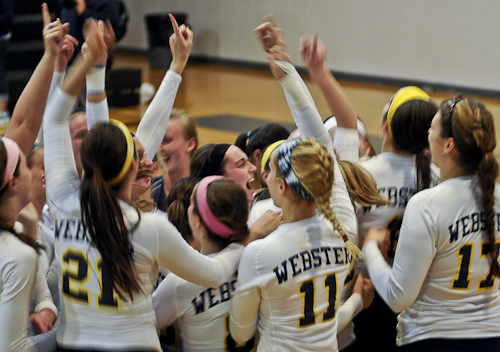 The Webster University volleyball team dominated St. Louis Intercollegiate Athletic Conference opponents all season long. Now, as champions of the SLIAC tournament, the Gorloks have the hardware to prove it.
Webster, as the No. 2 seed, survived its first-round match against third-seeded Westminster College (Mo.) in the SLIAC tournament semifinal on Saturday, Nov. 3 at Greenville College (Ill.). This was the Gorloks' first conference match all season that went to a full five sets. Webster calmed its postseason nerves enough to advance with a win of 18-25, 25-22, 25-16, 18-25, 15-13.
"They (Westminster) really played great, and they put a little bit of fear into us," Webster coach Merry Graf said. "I told (the players) at one point, 'You guys are playing afraid, not to lose. We got to get it together, and now.'"
After dropping the first set, Webster was down 22-16 in the second set. But a key timeout by Graf brought some inspirational words from one of the team's upperclassmen.
Graf paraphrased the upperclassman's comments during the timeout: "There are carloads of people on their way to see us. We have to win. If you guys aren't going to play for each other, play for the girls on the bench who would love to be out there right now."
It seemed to spark something for the Gorloks, as they were able to play for those fans traveling to see them in what would be the championship match later that same day. The host school Greenville gave Webster less trouble, as the Gorloks downed the Panthers in just three sets (25-21, 25-21, 25-18).
"I thought that was the most competitive conference tournament I have seen," Graf said. "All of the matches were really good matches, and that's nice to see. I think we're making a really good forward step with the conference."
Webster's confidence was shaken after the long match against Westminster. Now that Webster looked beatable, the championship match loomed large for the Gorloks.
"I was worried between games since we hadn't just played our best," senior setter Sami Murray said. "I guess that just fired some people up. Our defense barely let anything hit the floor and we went back to playing our game."
This is Webster's second consecutive SLIAC championship.
Soon after the champion was crowned, the personal awards piled up for Webster.
Five Webster sophomores were honored with All-Conference awards. Outside hitter Jenny Howard and middle hitter Sam Kersting earned SLIAC first-team honors. Setter Allie O'Toole and outside hitter Jordan Vehlewald made the SLIAC second team. Middle hitter Emily Ratkewicz took home an honorable mention. Junior defensive specialist Liz Abraham also earned an All-Conference second-team award.
Graf brought home her third SLIAC Coach of the Year award to make it back-to-back seasons.
The Gorloks will travel to Elmhurst College (Ill.) — ranked ninth in the country — for Round 1 of the NCAA tournament on Friday, Nov. 9.
Elmhurst volleyball student assistant Kinsey Mordini tagged Webster freshman outside hitter and friend Lauren McCulley in a Facebook post. The post said, "Hopefully Webster puts up a fight."
Webster players have some added incentive to win the match against Elmhurst.
"As a team, we are worrying about ourselves," said junior middle/ right side hitter Lindsey Taylor. "Some of their trash talking has already pumped some of the girls up on the team. I know for me it has."
Share this post