Sophomore midfielder Mike Wells of the Webster University men's soccer team hugged and shook hands with his former Greenville College (Ill.) teammates on Saturday, Oct. 27. Greenville Panther fans filled the stands with energetic spirit. It was Webster's biggest game of the season so far.
But for Wells, it was much more than that. It was personal.
"All motivation coming in here," Wells said. "It was good to be back. I haven't been here since I left, so I knew it would be an experience. I knew I would get harassed by the fans, but it was fun to be around and just laugh it off."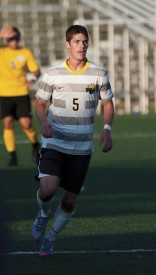 Wells transferred to Webster after his first semester at Greenville. It took him a while to finally get to the place that was right for him.
Wells is a 2011 graduate of McCluer North High School in Florissant and had many different options to choose from after graduation — Greenville, Webster, Fontbonne University and Concordia University (Wis.). He said his top choice at the time was Concordia.
"They (Concordia) recruited me pretty hard in the beginning," Wells said. "They actually came to my games and sent me handwritten letters saying how I played. I just thought it was interesting."
Wells has been playing soccer with his older brother since he was 4 years old. Five current teammates, including sophomore midfielders Tyler Brown and Taylor Overstreet, played with Wells at McCluer North.
Overstreet said he's been playing soccer with Wells since preschool, as they played in Catholic leagues and on club teams with each other. Brown played against Wells on club teams but has been friends with him since seventh grade.
During the summer before high school, the three of them started to hang out and have been a close group ever since.
"He really likes playing with the kids he played in high school with," Brown said. "We have a lot of great chemistry together."
Transitioning to collegiate soccer
Wells eventually chose to play soccer at Greenville.
Former Greenville men's soccer coach Brian McMahon believes a big part of getting Wells to come to Greenville was because it wasn't a commuter school, and the Panthers have a winning program.
"The relationships on the team with Greenville were good," McMahon said. "When I was at Greenville, we were on a 24-game unbeaten streak in conference. So I think that was probably Mike's appeal."
Brown said when Wells visited Greenville, it was more soccer-orientated, and the coaches told him everything he wanted to hear — that he'd have an opportunity to play a decent amount — but it rarely happened.
Wells said he got in 10 minutes per game, but sometimes he didn't play at all. Wells said he wasn't a fan of McMahon's coaching style because he played favorites.
In the short time he was there, Wells played defense for the Panthers. However, Wells was always an offensive player before playing for Greenville.
He also didn't like the small town and the fact that there wasn't much to do.
"I knew he wasn't going to like it going to Greenville," Overstreet said.
Greenville made it to the NCAA tournament last year after beating Webster in the St. Louis Intercollegiate Athletic Conference tournament championship game. Afterward, Wells was promised a spot on the 22-man roster against Dominican University (Ill.), but that didn't happen.
"He was one of the reserves, and that was kind of the final straw," Brown said.
McMahon said Greenville had a strong freshman class of 18 players last year. But by the end of the year, several players had left the team, including Wells. After those players left, McMahon left Greenville to coach at Belhaven University (Miss.).
"It doesn't make sense to me when players leave one program to go to another rival school," McMahon said. "I tried really hard to keep him (Wells), but he felt like he could get more playing time at Webster — even if they aren't as good."
Wells is a starter for the Gorloks. Overstreet said he and Brown served as the unofficial recruiters for Webster when Wells was on the fence about leaving Greenville. Wells was looking into transferring to Webster or Fontbonne, but he ultimately chose to become a Gorlok.
"I definitely did some calling since you couldn't talk to the coaches," Wells said. "I was talking to my buddies Tyler and Taylor, and they just kept talking it up, so I decided to come.
"I felt wanted (by Webster), so I felt like it was a good place to be," Wells said. "They (Greenville) didn't want me. I had to move on."
Wells came into the game with Greenville leading Webster in goals with eight. He had something to prove.
"He's laid back and a great guy, but when it comes to soccer, especially, he's going to put everything he has into it," Overstreet said. "If it means doing whatever it takes to win, that's pretty much what he's going to do."
Playing against a former team
Despite a team lead in cards this year, Wells would have to remain disciplined against the Panthers. If Greenville won, the Panthers would take control of first place in the St. Louis Intercollegiate Athletic Conference. But if Webster could either beat or tie the Panthers, the Gorloks would win conference — and clinch home-field advantage in the postseason.
Wells almost scored on a corner kick that hit the post in overtime. The goal would have been the game winner for the Gorloks had it gone in. The game ended in a 2-2 draw after double overtime.
"I was really hoping (the goal) would have went in," Wells said. "It would have definitely been better to have a win here, but to tie and win conference — I'll take that all day." (To read about Webster's game at Greenville, check out Page 15.)
Wells' future as a Gorlok
Webster associate head coach Michael Siener said what makes Wells such a good player is his ability to play almost anywhere on the field. Siener also said he does things that other players on the team can't do. For example, in the Oct. 23 game versus Fontbonne, Wells scored directly on a corner kick.
"I look forward to coaching him for the next two years and trying to make him even better," Siener said. "(He's a) good kid and a special talent."
Ultimately, Wells is pleased with his decision to leave Greenville. Not only has Wells excelled on the soccer field, but he has also improved academically while at Webster. In his first semester as a Gorlok, Wells took 18 credit hours and earned above a 3.0 GPA. Currently a business administration major, he is undecided about what he wants to do after college, but he said he would like to coach soccer somewhere.
"In his mind, he's going to travel abroad, try out for a team in Europe and see where that takes him," Overstreet said.
Share this post