Paul Carney, Webster University vice president of enrollment management and student affairs, recently advised students to get out from in front of the TV and apply for budget jobs if they want one. Carney's comment has drawn ire from sophomore Stu Macki, who presented on budget jobs at Delegates' Agenda on Oct. 2.
Macki said he was fine with the administration's response. However, he felt administration didn't present its thoughts respectfully.
"I just don't like the way they presented it like, 'I don't mean to be a dad here, but you need to get off your butt and do it (get a budget job),'" Macki said, paraphrasing Carney. "Who says that to students that are frustrated about getting jobs? He's not the one trying to get the jobs on campus."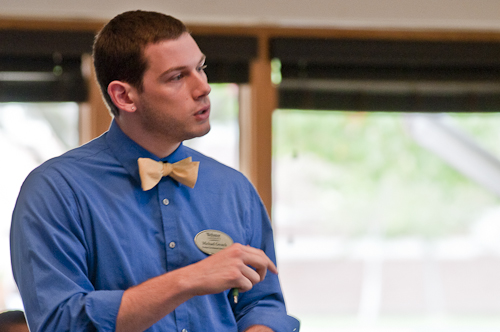 Macki said he was upset by Carney's advice because it overlooked how effectively students can live off budget jobs. Macki was unable to attend the administration's response on Thursday, Oct. 25, but he heard about Carney's presentation from his fellow Student Government Association (SGA) members.
Both Carney's and Macki's presentations focused heavily on budget jobs for international students. International students cannot receive work-study jobs from the federal government and cannot work off campus because of their visas. They rely on budget jobs on campus to make money.
International students hold 16.5 percent of the budget jobs on campus while representing five percent of the student population. About 50 international students fill 76 positions, meaning several international students hold more than one budget job at a time.
But Macki said the number of jobs isn't reflective of the quality of the budget jobs program. Some jobs provide just two to three hours of work a week.
"They (the administration at the response) talked about how some students on campus have two jobs, so it's your fault because you aren't looking hard enough," Macki said. "That's just frustrating to me because when you have an on-campus job, you aren't working full time, eight hours a day. So you can't live on a job that you're working two hours a week. So you have to depend on two or three jobs."
Macki said his presentation didn't ask for changes to the budget, but he asked that more budget money be set aside for international students. He recommended one-quarter of the budget be allotted to international students and the other three-quarters to domestic students.
"When I started the Delegates' Agenda process, (Director of First-Year Experience) Sarah Tetley approached me and said, 'Don't make this about having more money, make it about having more opportunity for jobs on campus,'" Macki said.
While no changes can be made to the money allotted for budget jobs this budget cycle, President Elizabeth Stroble said an increase in budget jobs is being discussed.
"I do think that expanding the number of budget jobs has to be a part of a larger picture," Stroble said. "We have had a conversation about that at administrative council over the last two to three weeks, and I'm going to hope we can make some movement on that as we move to the next budget cycle."
Graduate test reimbursement
When Carney responded to the possibility of reimbursement for the Graduate Record Examination (GRE) and Praxis test, he came to the conclusion that there really isn't any precedent for it.
After the presentation, junior and SGA President Michael Grosch said it was the different approach that would set Webster apart.
"I thought the GRE response was interesting to say the least," Grosch said. "I think it's an opportunity for the university to do something other universities don't do. And when we are trying to increase our enrollment and become a 5,000-undergraduate university, I think it's important we capitalize on those things we do that other universities don't."
In Missouri, only two of 39 universities offer any sort of reimbursement to graduate students for the required GRE and Praxis tests. A small number of universities provide some assistance for students who continue on at their university, according to Carney's presentation.
Chris Hawk, senior and SGA senator for the arts and sciences department, saw the reimbursement as an opportunity for growth.
"It (GRE reimbursement) could see that department grow and potentially the department of science as well," Hawk said. "Many of us will be going to graduate school and it would be very nice to do further with that.
"On the whole, it was nice to see the majority of the responses were ongoing programs from before Delegates' Agenda. Which is actually nice proof that as a student activist on campus, the majority of concerns students have the administration has already taken into consideration."
Stroble said while nothing is going to be done now, the dialogue is still ongoing and the university will look into options.
"We aren't done looking at if there can be some partial reimbursement," Stroble said. "You can expect when we convene again in the spring, we absolutely will have moved these topics forward and should have more to say."
Share this post