It was a game of firsts for the Gorloks this season, even after they played nine games. The Webster University men's soccer team displayed a strong defense, and, with a little help from a backup, ended the recent winless streak of 0-2-1. The Gorloks took down the Illinois College Blue Boys 1-0 on Saturday, Sept. 29 at St. Louis Soccer Park. The Gorloks' record is now 4-4-1.
Junior goalie Jarrod Huskey was given his first collegiate start and earned the shutout.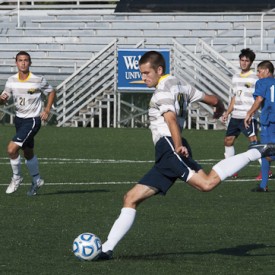 "I wasn't totally surprised because I talked to (associate head) coach (Michael) Siener the day before," Huskey said. "He said that there was a possibility that I was (going to start), so I should get ready, and mentally ready, for that if it indeed happened. I was still surprised, but I was still ready for it."
Siener said he and the other coaches had talked about Huskey's playing time and felt Saturday's game was a good chance to get Huskey a start.
"He's been working really hard," Siener said. "He's had some good practices. We've been talking about getting him in there earlier, and today was just the day we thought, 'Hey, he's been working hard, having good practices. Let's get him in there.' He responded and played well."
Huskey faced seven shots and only two shots on goal, but he credits this to the Gorlok defense.
"The big thing was the 10 guys in front of me played really well," Huskey said. "They made it easy on me. I think I only had to make one save that was pretty tough. It really goes to those 10 guys in front of me."
A defensive stalemate took place early on as the Gorloks and Blue Boys went into halftime scoreless. Another first of the year took place in the second half, and it meant the difference for Webster.
An already sunny day at the Soccer Park seemed to get brighter for Webster in the 75th minute of play. Senior midfielder Kyle Leonard found the back corner of Illinois College's net to put the Gorloks up 1-0. The goal was Leonard's first of the year, and the assist was credited to senior forward Clint Carder.
"(I was) just excited," Leonard said. "It was my first one of the year, and it's always exciting to get the first one. Hopefully after that, more will keep coming."
Webster was able to earn more scoring chances in the second half with more aggressive play. Siener said the coaches and players discussed how to get more shots on goal during halftime.
"That's what we talked about at halftime — trying to push it a little more, be a little more assertive, aggressive, and our guys responded," Siener said. "We definitely had a lot more shots in the second half — more dangerous play, too."
Webster needed a strong defensive showing. On Wednesday, Sept. 26, the Gorloks faced Illinois Wesleyan University (IWU). IWU was then ranked seventh in the NCAA Division-III Central Region and showed why as it took down Webster 4-2. Junior striker Pat McCaffrey and sophomore midfielder Taylor Overstreet both scored their first goals of the year in the loss. The defeat put the Gorloks at 0-2-1 in the last three games.
"We play a tough schedule," Siener said. "That game was tough. I'm glad they bounced back and played this game (against Illinois College) really well."
The victory over the Blue Boys ended Webster's nonconference schedule. The last nine games for the Gorloks pitted them against nationally-and regionally-ranked teams such as Loras College (Iowa), Wheaton College (Ill.) and IWU.
"4-4-1 (record) with that schedule, I think going in we knew it was going to be tough," Siener said. "To get four wins, I think it's a good start, and hopefully we can continue rolling into conference play with that win."
Webster, the only St. Louis Intercollegiate Athletic Conference team yet to play a conference game, kicks off its SLIAC contests playing host to Blackburn College (Ill.) on Wednesday, Oct. 3 at 7 p.m. at Soccer Park. The Beavers, currently 5-5, lost their first conference game to Fontbonne University on Sept. 29. Blackburn boasts the top two goal scorers in the SLIAC — forwards Prince Koroma (nine goals) and Josh Kutzke (10 goals).
The Gorloks are eager to get conference play started.
"We're always looking for a win," Leonard said. "We're always looking to definitely finish in the top four, but we want to be seeded as high as possible."
Siener said the upcoming games for Webster will be tough contests which any team could win.
"It's going to be a battle," Siener said. "There's a lot of parity in our league. All the teams are really close, really tight — it could go either way. You could finish first; you could finish last.
"I don't really think there is one team that's got a huge advantage going in thinking they're going to win it. It's going to be a close race, so it's important to get off next week to a good start and try to win that game Wednesday and get on top of the standings right away."
Share this post