As a Muslim, Hanan Rahman has witnessed many instances of racial profiling and discrimination. She said when people find themselves in altercations with law enforcement, they are often unaware of their rights.
"The Muslim (and) Arab communities always get profiled (when they're) pulled over, being spied on, in the airport. We realized the cops and higher authorities always overstep that boundary," said Rahman, senior legal studies and international human rights double major. "All this stuff comes into play and you don't even know your rights."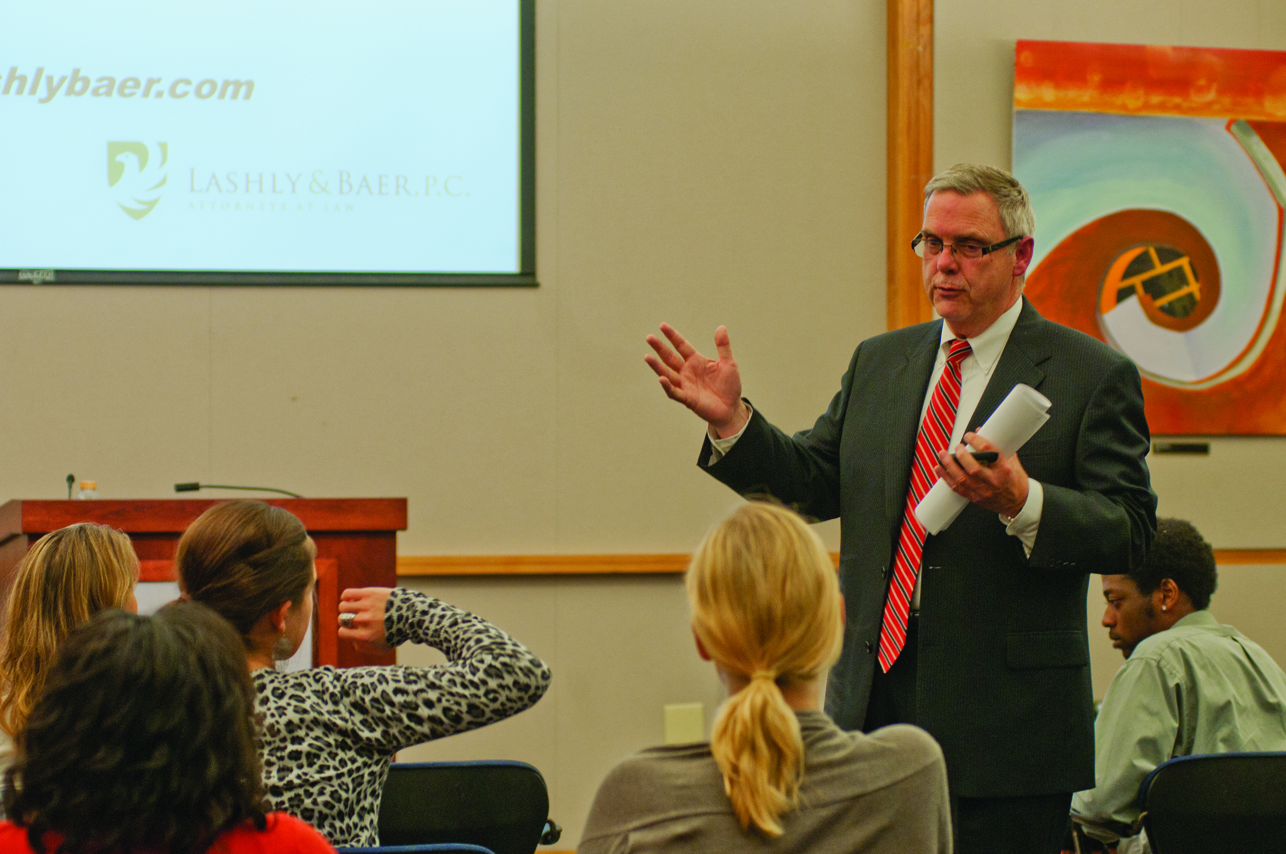 Rahman, Law Club president, wanted to create an event that would inform students of their rights. She planned to have a presentation by a representative from the American Civil Liberties Union (ACLU), but her professor recommended Lawrence Wadsack to come instead. Wadsack, an attorney at Lashly & Baer, agreed. He spoke on Tuesday, Oct. 2 in the University Center's Sunnen Lounge.
Wadsack said his goal with the presentation was to enhance students' understanding of their rights as citizens of the United States. He informed students about legal standards that are required by law for an officer to search, seize, arrest, detain or frisk an individual. The highest standard is proof beyond reasonable doubt and the lowest standard is a hunch. In Wadsack's presentation, he discussed the legal standard required for a police officer to frisk a person and search a person's house or automobile. These are just a few of the topics he went over. He also talked about what people can do in situations in which they feel law enforcement has abused their rights.
"I think it's important for everybody to know their rights. There's nothing wrong with knowing your rights," Wadsack said. "You know your rights when you're dealing with a banker, you know your rights when you're dealing with business people. You should know your rights when you're dealing with the government."
A professor told Shonta Heard, freshman legal studies major, about the event. Heard said she loves anything regarding crime and the law, so she attended the presentation. She said she gained useful information.
"He definitely made me knowledgeable about questions I had on how the police (should) check a car," Heard said.
Rahman said she wants the Law Club to host a similar event next semester to inform students about their legal rights. She plans to invite the ACLU, or maybe another group, to provide a different perspective on the topic.
"I think that Law Club is the right entity to tell people their rights," Rahman said. "The most important thing is to tell others their rights."
Share this post