Webster University alumnus Tony Reed encountered numerous wild animals — including rhinos, cheetahs and fur seals — en route to becoming the first African-American to run marathons on all seven continents.
Reed went toe-to-toe with penguins in Antarctica: "You smell them about 200 yards before you get to them," he said.
Reed prepared for the worst when humpback whales circled the tiny boat carrying him and other runners prior to the start of the Antarctica Marathon. One of the whales swam under Reed's boat and tapped the bottom of it before harmlessly gliding away.
But for Reed, the most frightening confrontation with a predator came in June 2007, when he finished his seven-marathons-on-seven-continents journey by running the Safaricom Lewa Marathon in Kenya. Reed had spotted rhinos, zebras and cheetahs roaming the area earlier in the day, but he and his running partner weren't prepared for what they saw next.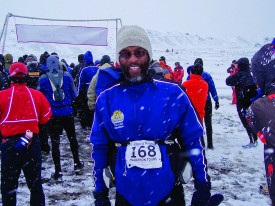 "We were running along and an animal literally came flying out of the tall grass on one side and ran across to the tall grass on the other side," Reed said. "We were startled. We came to a complete stop because in our minds we're thinking, 'Something might be chasing that animal.'
"We just kind of looked at each other. Do we turn and go back the other way? Do we wait here and see what's going on? We hesitated and waited and nothing came after us, so we continued on the race. That was scary. It was just a blur."
Reed's running adventures have taken him from the top of the Great Wall of China to the streets of Paris and Amsterdam. Reed, 57, began running marathons in 1982 and has completed 116 of the 26.2-mile races over the past 30 years.
Reed, a 1978 Webster graduate, talked about how he's applied lessons learned from running to his professional career as a CPA and in Information Technology during a Thursday, Sept. 13 presentation at the East Academic Building. Reed has more than 25 years of management experience and said he's had fewer than five people quit while they were working for him.
Reed develops passion for running
Reed was born and raised in St. Louis and graduated from John Burroughs School in St. Louis in 1973. He earned degrees in mathematics and management from Webster, though he admitted he found time to "spin records at some of the Webster parties."
When Reed was 8, he was diagnosed with a prediabetic condition. He was told he'd have to go on insulin at some point in his life. But to this day, Reed has never taken insulin, as his active lifestyle and determination to not "be put in a box" have kept him running marathons into his 50s.
"If you put me in a box, I'll probably end up getting out of it," Reed said. "I've done so many things that I'm not supposed to do or the odds are definitely not in my favor. For example, at the time I took the CPA exam, there was an article out that said 0.6 percent of the CPAs in the U.S. were African-American. For me to go into the CPA realizing that it was just that few of us would have scared some people away.
"But I looked at it and said, 'Well, the odds of finding an African-American in this country who have run a marathon is an even smaller percentage. So if I can run a marathon, I can pass the CPA exam.'"
[pullquote] "If you put me in a box, I'll probably end up getting out of it. I've done so many things that I'm not supposed to do or the odds are definitely not in my favor." Tony Reed, 1978 Webster University graduate [/pullquote]
Reed played soccer and ran track and cross-country in high school. He fell in love with the sport of running when he discovered its health benefits. He said he runs every single day and has jogged more than 36,000 miles during his running career.
"(Running) is inexpensive. It doesn't require a lot of equipment — shoes, shorts, socks and a shirt," Reed said. "I can do it anywhere, and I can do it anytime — day or night — and in any country. I remember reading early on that you can burn more calories running in one hour than you can just about everything."
Reed looks ahead to what's next
Though he weighs more than 200 pounds, which Reed said is very heavy for a marathoner, Reed is one of about 225 people to have run marathons on all seven continents. He has run 50 marathons in Texas and completed a marathon in Australia on his 50th birthday. Reed currently lives in Dallas, though he said he's been to Webster and St. Louis several times since he graduated from the university.
Reed said he also developed interest in triathlons because his wife, Deborah, has completed four of the swimming/biking/running events. Reed promised his wife that once he runs a marathon in all 50 U.S. states — a goal he hopes to finish by next year — he will participate in a half-Ironman event with her.
"Running marathons has basically told me that I can do anything I put my mind to," Reed said. "Last year, I decided I wanted to get to the point where I could swim a mile, and I was able to do that. To be 56 years old and able to swim a mile, that's pretty remote."
Reed, who has six children and five grandchildren with his wife, intends on running well into the future. Though Reed has run marathons on all seven continents, there is one place he has yet to set foot on, one place he has yet to conquer.
"There are about (225) people in the world that have run marathons on all seven continents," Reed said. "There are six people in the world who have done those two plus run a marathon on the North Pole. I thought about it; I've never been to the North Pole. Why not give it a shot?"
Share this post