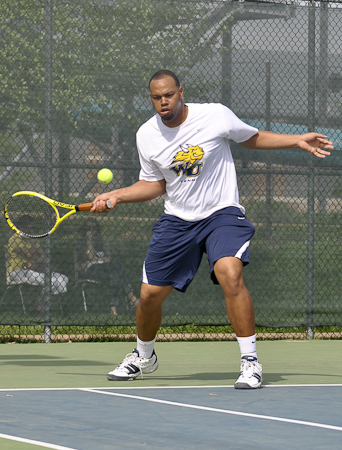 The Webster University men's tennis team dominated its St. Louis Intercollegiate Athletic Conference opponents, beating Greenville College 8-1 on April 3 and Eureka College 9-0 on March 31. Webster also defeated Concordia Seminary 8-1 on March 27.
The Gorloks improved their overall record to 11-2 and SLIAC record to 3-1.
Webster coach Michael Siener said he isn't surprised by the team's success.
"I'm not surprised, but I'm pleased," Siener said. "The kids have been working hard. Everybody up and down the lineup has a positive attitude. They deserve the success they've had. I thought the match against Greenville would be a little closer, but our guys showed up ready to play and they handled it pretty well."
Webster is getting great production from each spot in the lineup. Junior Wakeel Rahman had a big win at the six singles spot against Greenville, as he won in three sets.
"It was against a kid who was pretty good and has a pretty good record," Rahman said. "At first I was just trying to beat him at his game, so I dropped the first set 7-5. In the next two sets, I composed myself and just wanted to play my game, and it worked out. He started to get really inconsistent. I got in his head and that was it. It was a good win."
Junior Josh Sellmeyer swept his three singles and three doubles opponents against Greenville, Eureka and Concordia. He is 19-0 this season.
"Josh Sellmeyer continues his undefeated streak on the year," Siener said. "He deserves a lot of credit for being undefeated in singles and doubles."
The victories over Greenville and Eureka mean the Gorloks are alone in second place in the SLIAC with their 3-1 record. The two conference wins and the win over Concordia came after a 6-3 SLIAC loss to Westminster College on March 22.
"This is three straight wins right now," Rahman said. "It was a good way to respond because we lost to Westminster. To respond like that with three straight wins was pretty good."
Each player has won at his spot and contributed to the recent success of the team. Not one individual has been pulling the weight of the team, Siener said.
"One thing I want to get across is our team effort and team aspect of everybody playing together," Siener said. "Sometimes I hate the individual aspect of the sport. We win and we lose as a team. Our bottom of our roster is as important as the top of the roster. We're getting wins all the way through the lineup, which is nice. That was probably my concern going into the season."
The next two weeks will determine where the Gorloks stand when the SLIAC tournament rolls around on April 28.
"If we can continue to build in these two weeks, we can surprise (Westminster) and (Principia College) at the tournament," Siener said. "Even the Greenville coach had mentioned it. We're heading in the right direction, which is good."
Webster's next match is against Illinois College on April 7 at the Webster Groves Tennis Center. Webster's final SLIAC match is against Principia, who is undefeated in conference action, on April 14.
Share this post