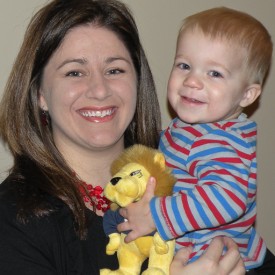 It was a hectic but exciting month and a half for Jeanne (Zes) Gilbert. On Oct. 11, 2011, Gilbert gave birth to her third child, 8.4-pound Truman. Forty-one days later, on Nov. 20, Gilbert got a phone call from Webster University Director of Athletics Tom Hart, who told Gilbert she had been voted into Webster's Athletics Hall of Fame.
As happy as Gilbert was to hear the news, the kicker came when Hart told her she would be inducted alongside former softball and basketball teammate and longtime friend Laura (Stuhlman) Peiter. Gilbert and Peiter played three years of softball and two years of basketball together at Webster and remain close to this day.
"It's just like another step that we're taking together," Gilbert said. "We're including other members of the team we've invited to the Hall of Fame on Saturday, (Feb. 4). It's a big deal and she completely, totally deserves it, and I'm very happy for her. When Coach Hart told me she was nominated as well, I thought it was great."
Gilbert was a star pitcher for the Gorloks from 1998-2000 and played guard for the women's basketball team from 1997-2000. Peiter played second base for the softball team from 1998-2001 and point guard from 1998-2002. Peiter said she is looking forward to being enshrined alongside her good friend, who helped shape her into the person she is today.
"When you go through a time in your life like that when you're changing so much and really finding your identity, it's the people around you that really make a big difference," Peiter said. "Jeanne was one of those people. Anytime you get to share an experience with someone you know and that you're excited about, that's always fun. So, I'm really looking forward to seeing her that day."
Gilbert, Peiter and former standout women's soccer player Ashley (Everett) Zeier will be inducted into the Hall of Fame during halftime of the men's basketball game against Eureka College, which is scheduled to tip off at 3 p.m. on Feb. 4 at Grant Gymnasium. The three former athletes make up the Hall of Fame's third induction class.
Gilbert and Peiter are the second and third softball and women's basketball players to be inducted into the Hall of Fame. Halley (Spann) Barke was enshrined in 2011 and played basketball from 1999-2002 and softball from 2000-02.
Gilbert and Peiter turn softball program around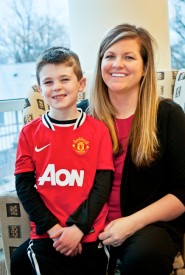 In the softball program's first season of existence, the 1997 Gorloks went 6-19 overall and 3-11 in St. Louis Intercollegiate Athletic Conference play. When Gilbert, Peiter and several other recruits joined the team the following season, the program's fortunes changed.
The 1998 Gorloks had one of the best seasons in Webster history. The Craig Walston-coached team finished the year with a 30-5-1 overall record and a 12-1 SLIAC record. It was the first of 14 straight winning seasons for the Gorloks, a streak that the 2012 softball team will try to keep intact.
"I thought because we were all so new, we were in it together — there wasn't any friction," Gilbert said. "No, 'I'm a senior, I'm this, I'm that, you guys are sucky freshmen, you do what we tell you.' There was none of that at all. It was really nice to just come together as one team; nothing was ever established before."
The '99 team built upon the success of the previous season by going 38-11 overall and 13-1 in the SLIAC. And in Gilbert's senior season, the 2000 Gorloks finished 33-7 and 11-1 in the SLIAC. In Peiter's senior season, the 2001 squad compiled a 37-9 overall record and an 11-1 mark in conference action.
Gilbert, who played softball at McKendree University for one year before transferring to Webster in 1997, helped the Gorloks win three straight SLIAC championships and make three NCAA tournament appearances. Peiter won four SLIAC titles and qualified for the NCAA tournament four times. In 1998, Webster didn't win an NCAA tourney game. The Gorloks won one tournament game before being eliminated in 1999, 2000 and 2001.
"It was so fun because we had expectations of ourselves, but nobody had expectations for us," Peiter said. "We just had so much fun with what we were doing, and because we were having fun, we were playing well. It was fun because we all had similar personalities; we're all still friends today. It was an experience that we're like, 'Well, let's just play ball. We're here; we might as well play.' When we were serious, we didn't play as well."
Gilbert put up gaudy pitching and hitting statistics. She pitched in 66 games and completed her career with a 48-11 record, the highest winning percentage (.814) in Webster softball history. At the plate, Gilbert hit for a .314 career average. She scored 53 runs and drove in 48.
Emily (Biver) Werner, who played basketball from 1997-2001 and softball from 1998-2001, said Gilbert was, "our ace all three years that she played."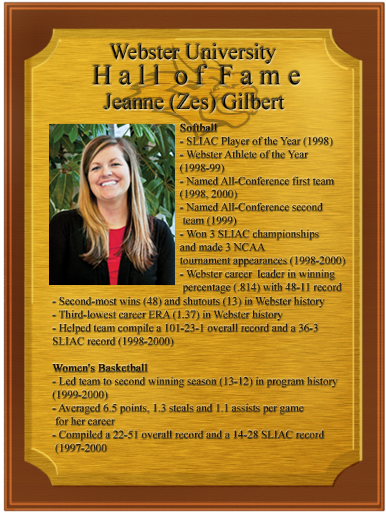 "She was vital to our program and basically her pitching led us wherever we needed to go," Werner said. "We had to score some runs for her, but we knew she would be on her game and would do her best to get batters out."
While Gilbert mowed down opposing hitters, Peiter made life difficult on opposing pitchers, especially when she got on base. Peiter stole 111 bases during her career, which ranks her first all time — 29 more than the next-closest player.
Peiter hit .361 for her career, scored 137 runs (fourth all time), had 145 hits (sixth all time) and 16 triples (second all time).
Werner said Gilbert and Peiter's personalities were, and are, very different.
"Jeanne was always looking out for us, both on the field and off the field, on the court and off the court. Any bus ride, we always wanted to sleep, play games or just have fun, and Jeanne was always doing her homework and always on top of things. She was like, 'You guys should probably do some homework since we're going to be out late.' To this day, she always looks out for everybody. She's a great mom of three kids now, and she's just a great person. She would do anything for anybody.
"(Laura) was more, and still is, super fun to hang around; kind of like the life of the party, just wanted to always make everybody laugh. If you're going to be with (Laura), you know you're going to have a good time. Our group was just always together."
Gilbert and Peiter transform basketball program
Through the women's basketball program's first 11 seasons, the 1992-93 squad was the only team to finish the season with a winning record. But when Gilbert joined the Gorloks in 1997 and Peiter came on board in 1998, the program's tide began to change.
That change truly became evident during Gilbert's senior season, 1999-2000, when Webster went 13-12 overall and 8-6 in the SLIAC, the program's first winning season in seven years. Peiter led the team to a 15-10 overall mark and a 9-5 SLIAC record the following year.
In Peiter's final season, 2001-02, the Gorloks broke through in a big way. Webster went 25-3 overall and 14-0 in the SLIAC, won the SLIAC championship and qualified for the NCAA tournament. The Gorloks won their first two games of the NCAA tourney before falling in the Sweet 16 to the University of Wisconsin-Stevens Point, who went on to win the national championship.
Peiter didn't play basketball her first year at Webster, but Werner and other members of the team convinced her to join.
"We kind of talked her into it the second year, and what a world of difference, because we actually had a point guard that could handle the ball and shoot the 3," Werner said. "She was a playmaker. Of course, we were mad at her for not playing our freshman year, but it was awesome when she came out the year after. She basically ran the court out there, as a point guard should do. She was very good."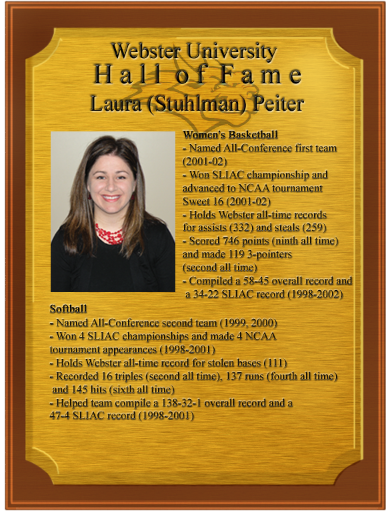 For her career, Peiter scored 746 points (ninth all time) and recorded 332 assists, which is the all-time Webster record.
Gilbert was more of a role player during her three years of basketball. For her career, she averaged 6.5 points, 1.3 steals and 1.1 assists per game.
Duo looks forward to the Hall of Fame ceremony
After graduating from Webster in 2000, Gilbert began her first of nine years as a teacher in the Pattonville school district. She is in the midst of her third year of teaching kindergarten at Uthoff Valley Elementary School in Fenton.
Gilbert, her husband Greg, and their three children — Roman (6), Nika (3) and Truman (4 months) — currently live in O'Fallon, though the family plans on moving to Fenton within the next couple years. Gilbert said her Hall of Fame induction helps validate her three years as a Gorlok.
"Transferring from another school and going into Webster as a sophomore, I never felt like I was fully part of Webster," Gilbert said. "I always felt like I was a part of softball; I developed great friendships there. (The induction) made me feel like I contributed something to Webster, that my time there meant something. I guess it just made things a little more meaningful of my time at Webster. It's like I mattered a little more."
Meanwhile, Peiter graduated from Webster in 2001 and completed a master's degree in media communications in 2007. She worked in Webster's undergraduate admissions office until 2007. That same year, Peiter got married to her husband, Matt, and the couple moved to Columbia, Mo.
Peiter has worked at the University of Missouri's Career Center for the past four years. Peiter and Matt have a 20-month-old son, Evan. For Peiter, the Hall of Fame induction is an opportunity to reflect on her great years as a Gorlok.
"It allows you to really think about your experience and not take that for granted," Peiter said. "I didn't do it for any recognition; I just played because I loved it. I liked the people I was around. It was just a great time in your life.
"These people you meet while you're a part of the process are your lifelong friends. These are people that we go to all of our baby showers, wedding showers and stay in touch. That part in of itself makes the experience worthwhile. To be recognized is truly an honor and to be mentioned in the same breath as these people that are already there is really humbling."
Share this post