Justin Raymundo resigned as Student Government Association (SGA) president after holding the position for two-and-a-half years. He was the first student in SGA history to win the presidency three times.
Courtney Turner, sophomore advertising and marketing major, was sworn in as president at a SGA meeting on Jan. 24. Turner was first informed of Raymundo's resignation during her shift at Applebee's after missing a call from SGA advisor John Ginsburg.
"It was a Friday night," Turner said. "It was out of the blue."
Raymundo resigned after accepting a full-time position at Monsanto as manager of corporate responsibility in which he will collect data and information for Monsanto's sustainability report.
He first interned at Monsanto in June 2010. He stayed on as an intern until earning a part time position in Jan. 2011 and maintained the position under Maureen Mazurek, director of Corporate Responsibility. Monsanto offered Raymundo a full-time job during the final week of the fall semester. He started the job on Jan. 3.
"I knew that it was the right opportunity to take to fill the position (Maureen) wanted me to and fulfill this full-time role, really get serious about where I wanted to be after Webster," Raymundo said."I looked at my schedule for the (spring) semester and I knew that if I wanted to graduate on time, if I wanted to survive a full-time academic load and a full-time job like many non-traditional students do, I had to give something up."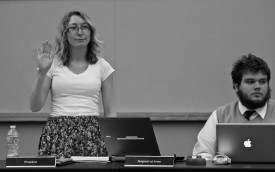 He then chose to leave SGA. Raymundo met with University Center (UC) director John Ginsburg, then Dean of Students Ted Hoef to resign as SGA president, writing an informal resignation letter on legal pad.
"I was walking out of the (UC) and it was the last time I was in the UC as not just the student body president, but also as a traditional undergraduate student because, obviously, I work full-time and am not on campus as much anymore," Raymundo said. "My college life is effectively over and it hit me, and it was sad."
As SGA president, Raymundo worked to strengthen the Delegate's Agenda. Raymundo created a relationship between Delegate's Agenda and SGA through encouraging SGA executives to research and present issues to the administration.
"Delegate's Agenda not only advances those causes by virtue of just facilitating the Delegate's Agenda, but also by sinking SGA with those," Hoef said. "That always hasn't been the case. SGA, in the past, sometimes said, 'Here are our goals and there's Delegate's Agenda.' I think Justin did a nice job of having those all be on the same page which I think helped advance (those causes) more."
Raymundo is not the only veteran SGA executive to resign. Seniors Abby Bandelow and Erin King, former public relations and sergeant-at-arms respectively, stepped down. Junior Nicole King, former secretary also left SGA before 2012. The positions were filled as follows:
—Courtney Turner, President, sophomore advertising and marketing major
—Michael Grosch, Vice-President, sophomore international relations and public relations major
—Katie Maxwell, secretary, sophomore sociology and mathematics major
—Chris Venable, sergeant-at-arms, junior secondary education and mathematics major
Ginsburg, who advises SGA, feels that although the timing may be earlier than expected for these young leaders to take on higher SGA positions, they are ready for the responsibilities.
"I think the people who left did a good job at grooming the younger folks to be able to step up," Ginsburg said. "It may sound strange to say so, but I think the timing was really good because it was a good thing for Justin and it was a good time for other leaders to step up."
When Raymundo ran for the third time in spring 2011, Ginsburg said he saw Raymundo approach younger students and encouraged them to join SGA.
"I think the conversation a year ago when I said, 'Justin, if you run for a third term, when you leave there could be this power vacuum.' I think he took that to heart to make sure that when he did graduate there would be younger members involved," Ginsburg said. "I think Michael (Grosch) is a good example. He's someone Justin reached out to and expressed interest in further roles on SGA since Michael got started."
Raymundo said  he hopes Turner will be not only respected as SGA president, but also for what she does in that position.
"Sadly, at times I really lead as a figurehead as opposed to a leader, as an individual, as a strong decision maker," Raymundo said. "And, we don't need figureheads at Webster, we don't need images – we need actual people to make solid decisions and I never want to be remembered as an image…So, it's great that people think of me as someone who brought a new light and enthusiasm and energy to the position of student body president. But I think what Courtney Turner will be able to do more than me is really do the job and be a hard worker and make the decisions and not be swallowed by the image."
Turner said as SGA Vice-President, she knew there was the possibility for her to step up into the presidency.
"I'm not afraid to take on a challenge," Turner said. "I'm excited. With my student government behind me, they're such great people, I couldn't be more excited."
In her four years at Oakville High School in South St. Louis County, Turner worked her way up to president of Oakville's student council. When running for SGA in her first year of college, Turner said she contemplated eventually taking the presidential seat.
"I made my way up the chain in high school and it's awesome to see that I made it up the chain here too," Turner said.
Turner said she knows she has big shoes to fill succeeding Raymundo, but is enthusiastic about the future.
"It's not one of those jobs in which you stick to the side," Turner said. "It's one of those jobs where your work shows through it and people are relying on you and you want to make a good impression on everybody, and stay on top of things."
Raymundo and Turner have continuously talked to help Turner transition into her role.
"He wants to make sure student government goes really well and I don't blame him," Turner said. "He's been in the position for two-and-a-half years. He wants what he's done in student government to carry on and I plan to do that."
Turner said she plans to meet with President Beth Stroble in the near future to develop her working relationship with the administration — something Raymundo worked steadily on during his presidency.
"I feel like our administration is so extremely friendly that it's one of those things in which I'm going to feel really comfortable working with them and I feel like a lot will get done between us," Turner said. "Once I get the relationship going, I can see it progressing quickly."
Before advocating for certain issues, Turner said she would like to focus on creating more orderly SGA meetings and strengthening the relationships between SGA members.
"If the student government body themselves doesn't feel comfortable working together, we won't feel comfortable working with the students," Turner said. "So I want to improve our relationships and make us a stronger group of student government leaders so we can serve the students better. Once I accomplish that, then I can move onto the people."
Turner added that she will see how this semester goes, but could see herself running for SGA president at the end of the academic year.
Share this post